And so it was that with the Northern election of 1864 looming two great Confederate armies would attack the capital. The northern prong would be lead by Steve V, Sean and myself. Our Union opponents would be lead by James, Marly, Dave and Steve K.
As we were using a double width table we decided to deploy in only one half, essentially weighting our right and denying our left, simply because of the distance the Union would need to reach our lines. Steve, our most experienced and successful general (32 Epic points for the weekend so far) would take the right and try to smash his way through James. I would have the left, facing two full armies including Dave's massive gun line, with Sean in the middle keeping Marly busy and supporting Steve. Steve K would end up having on the Union right with no one opposite him.
Deployment from the Rebel right.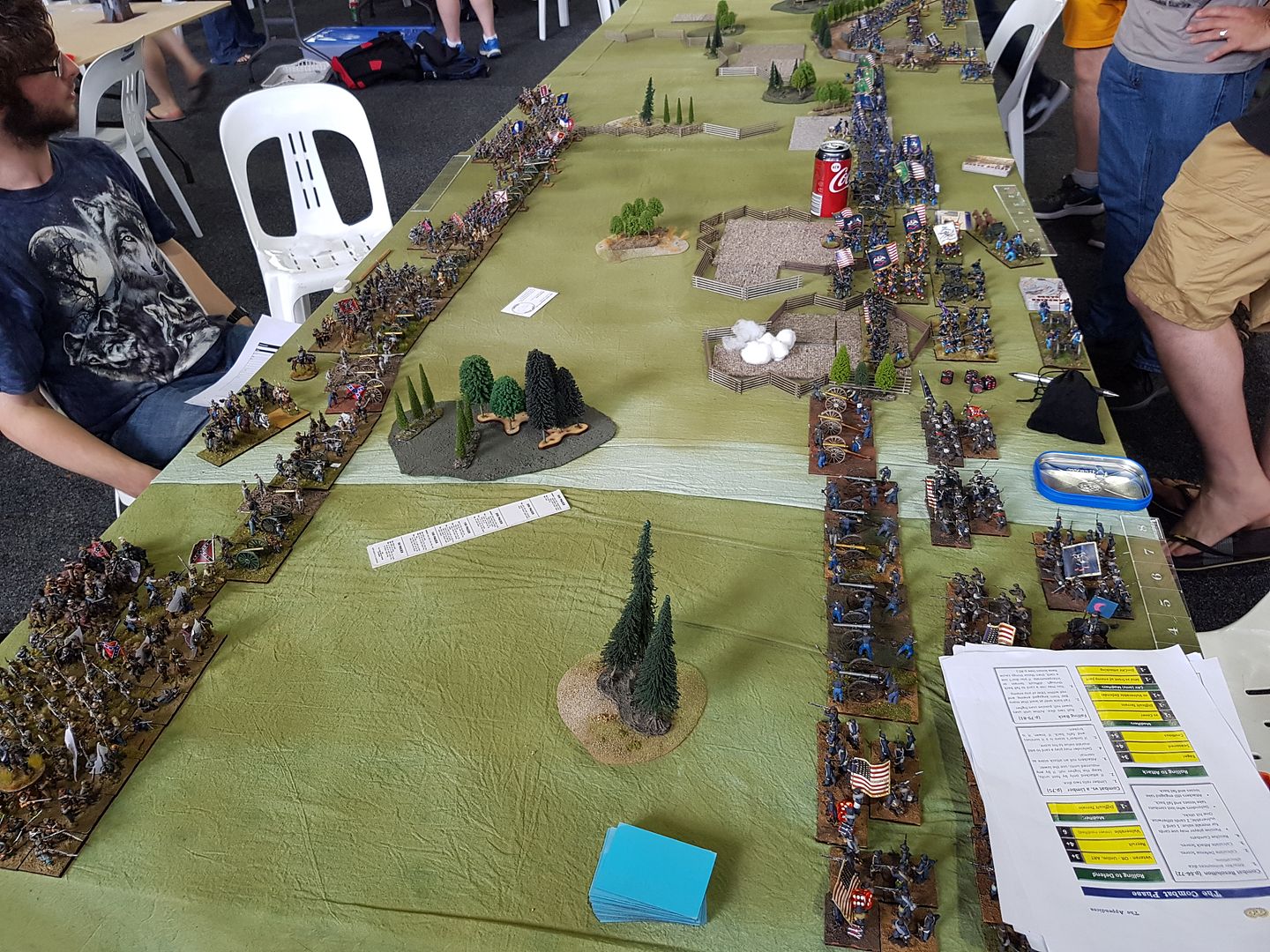 Dave's gun line.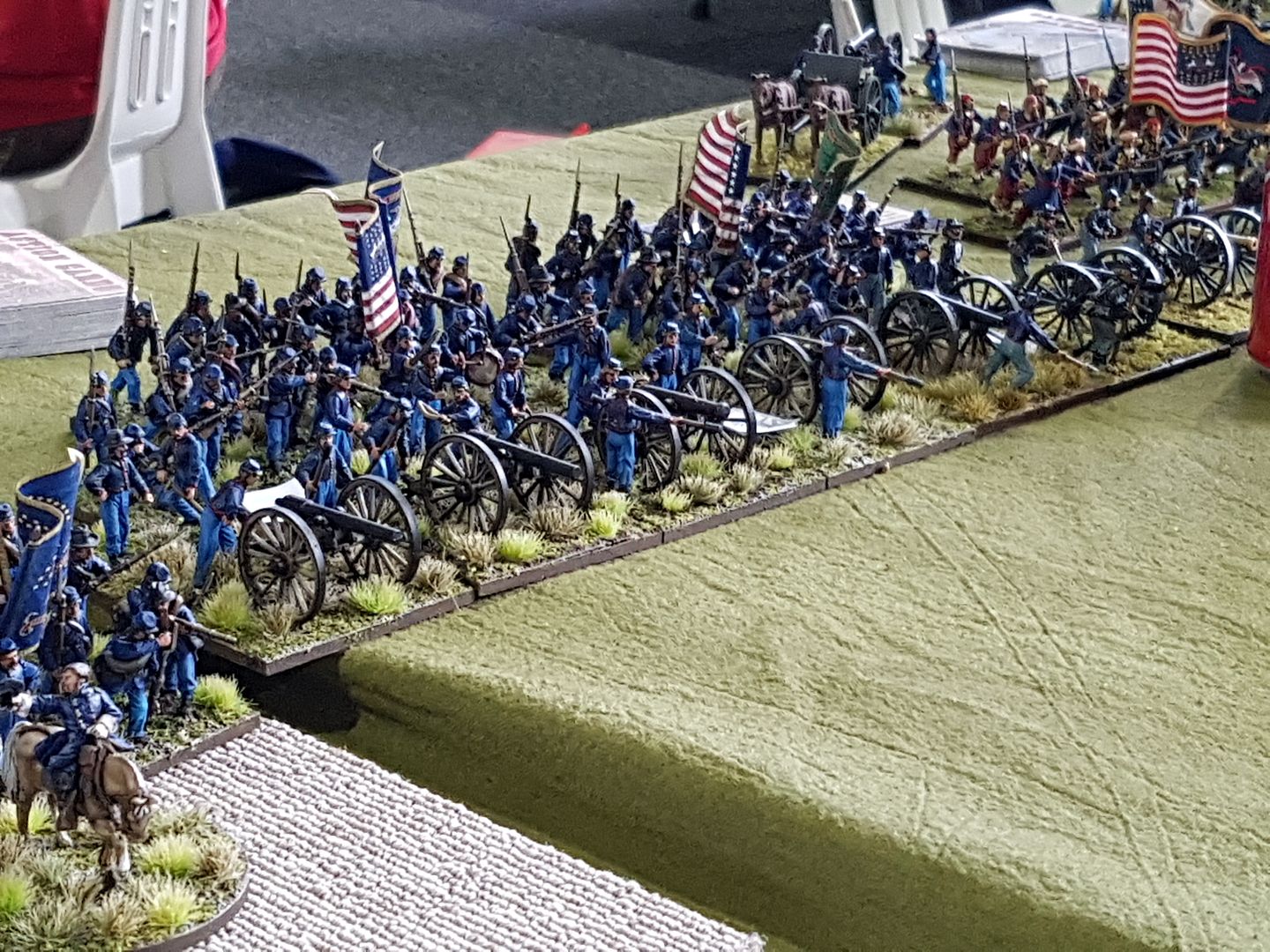 My own gun line. My first priority was to silence Dave's guns.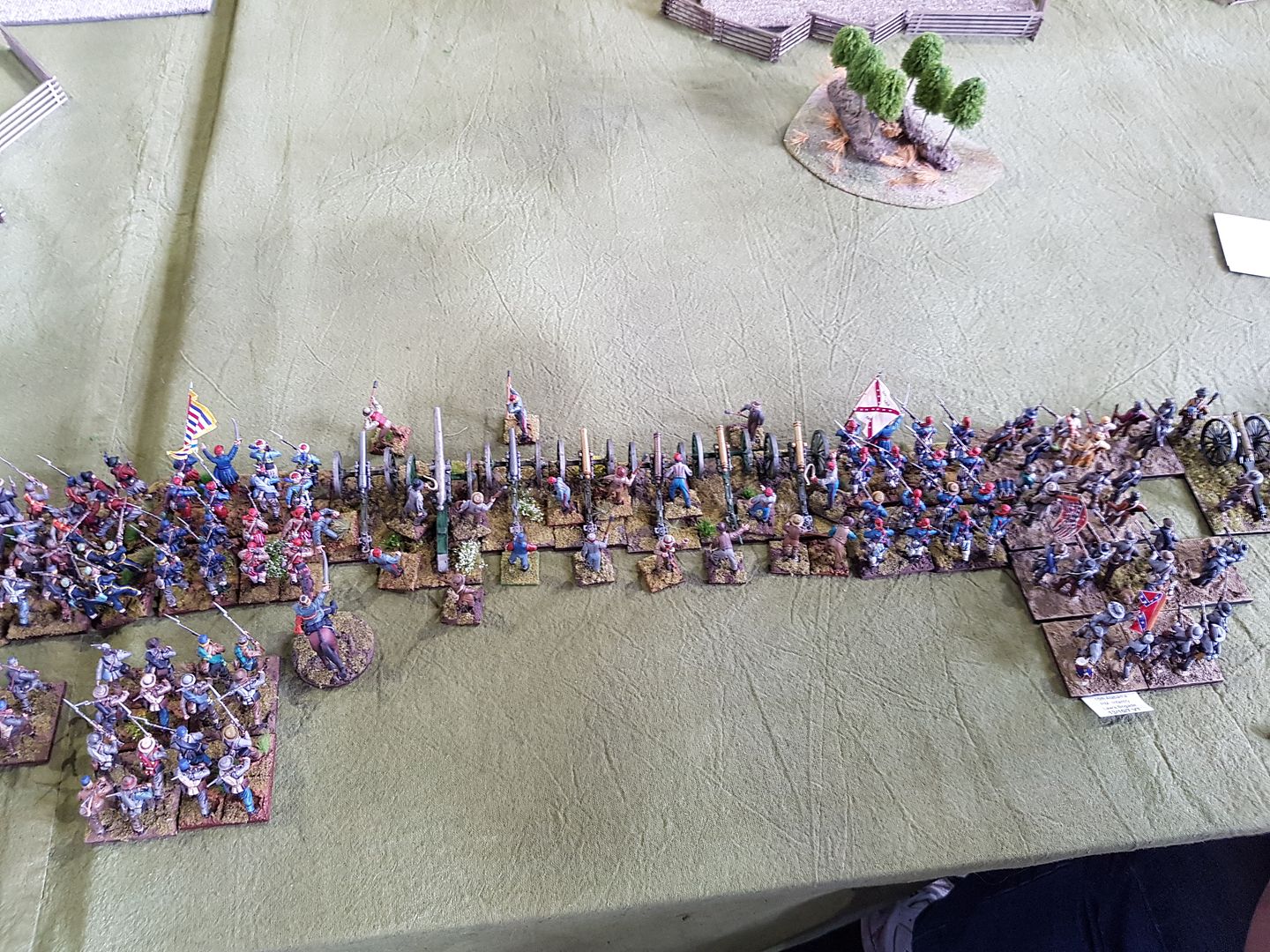 Having a fence line in front of me, though running towards the Union lines, I moved forward so my troops could occupy the fence and refuse the front making and upside down "L" with the short arm covered by the artillery.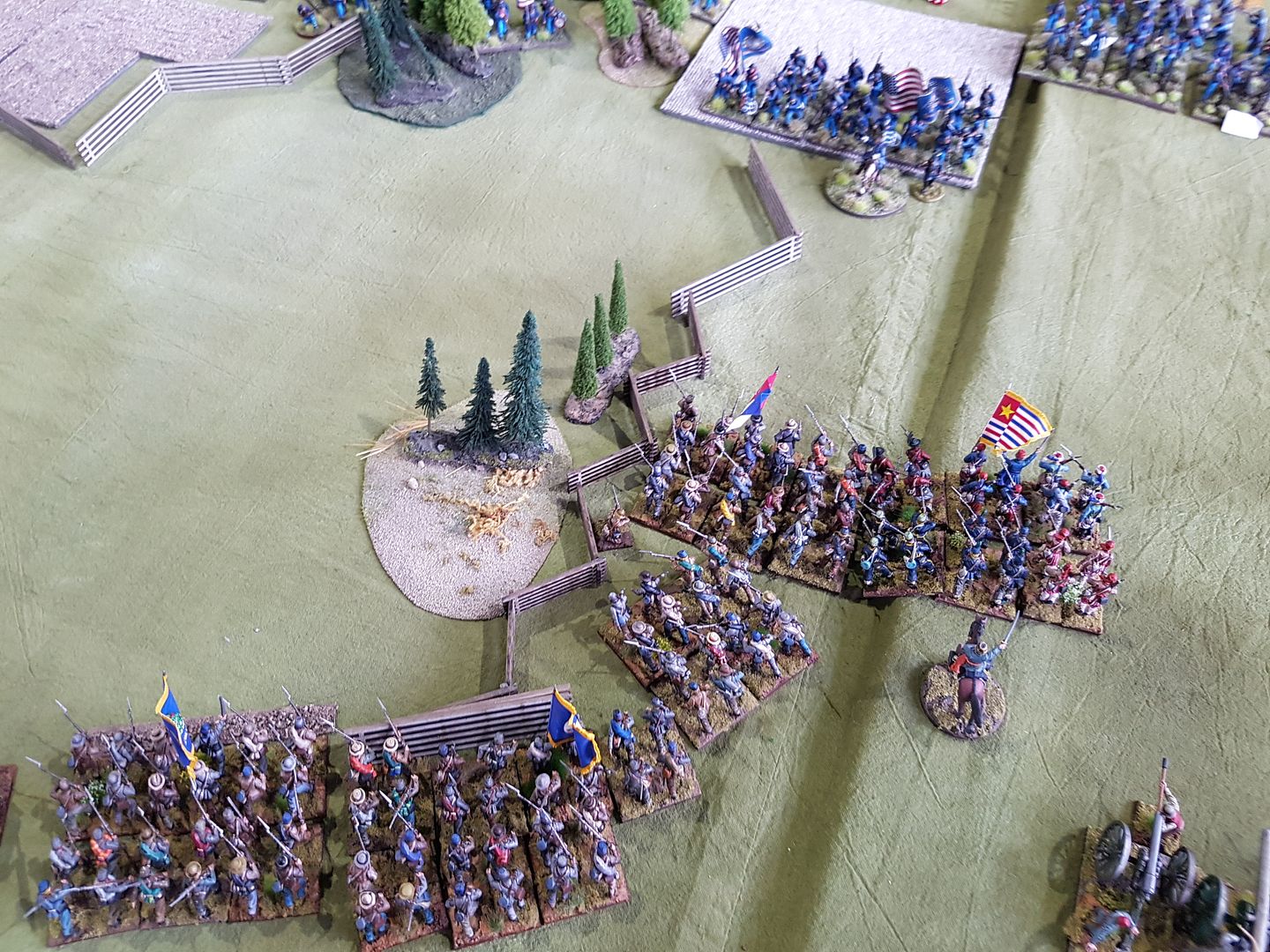 My commanders training as an artillery officer, giving a +1 to hit for guns not using canister, paid off quickly reducing Dave's guns over a couple of rounds.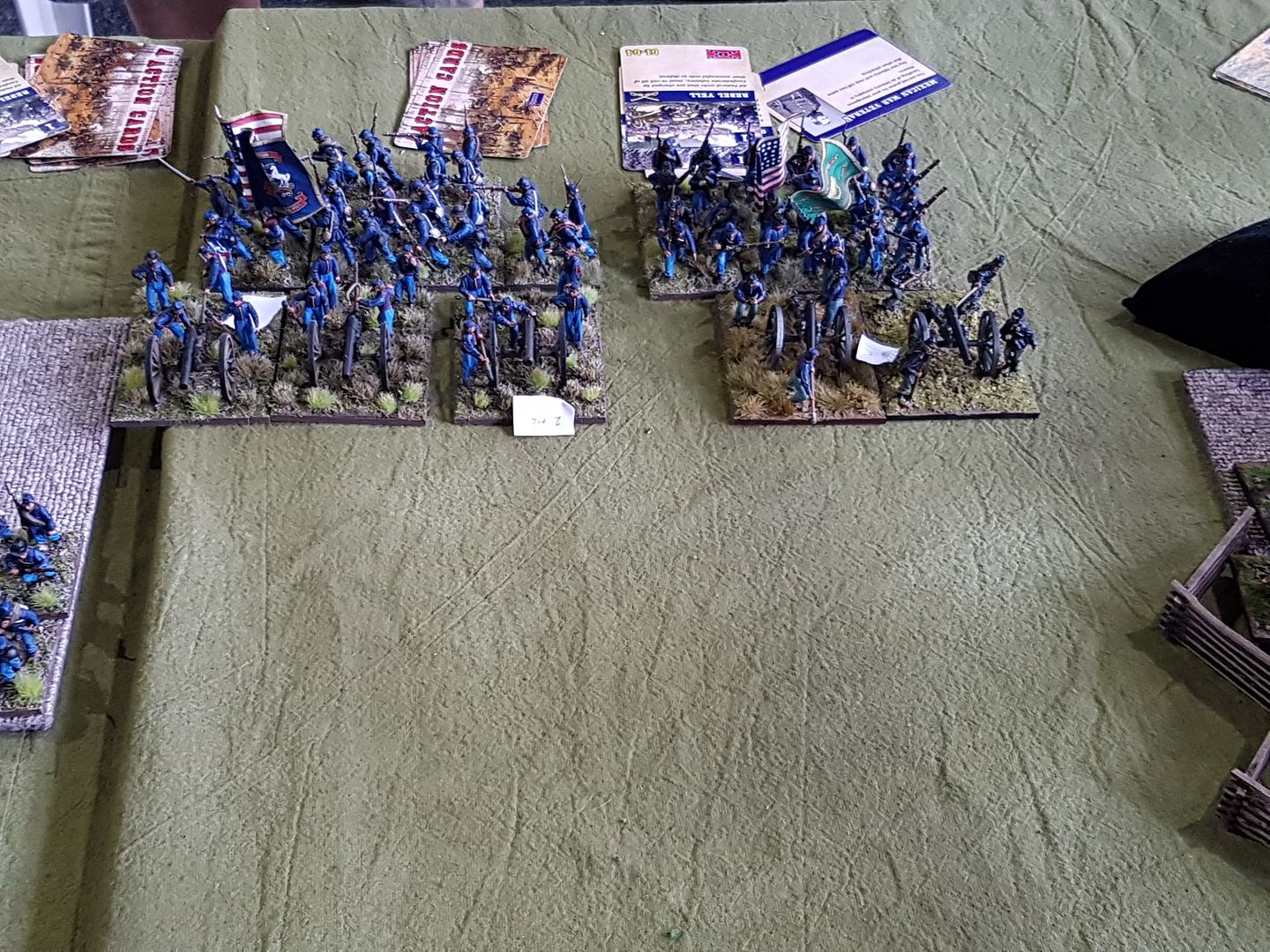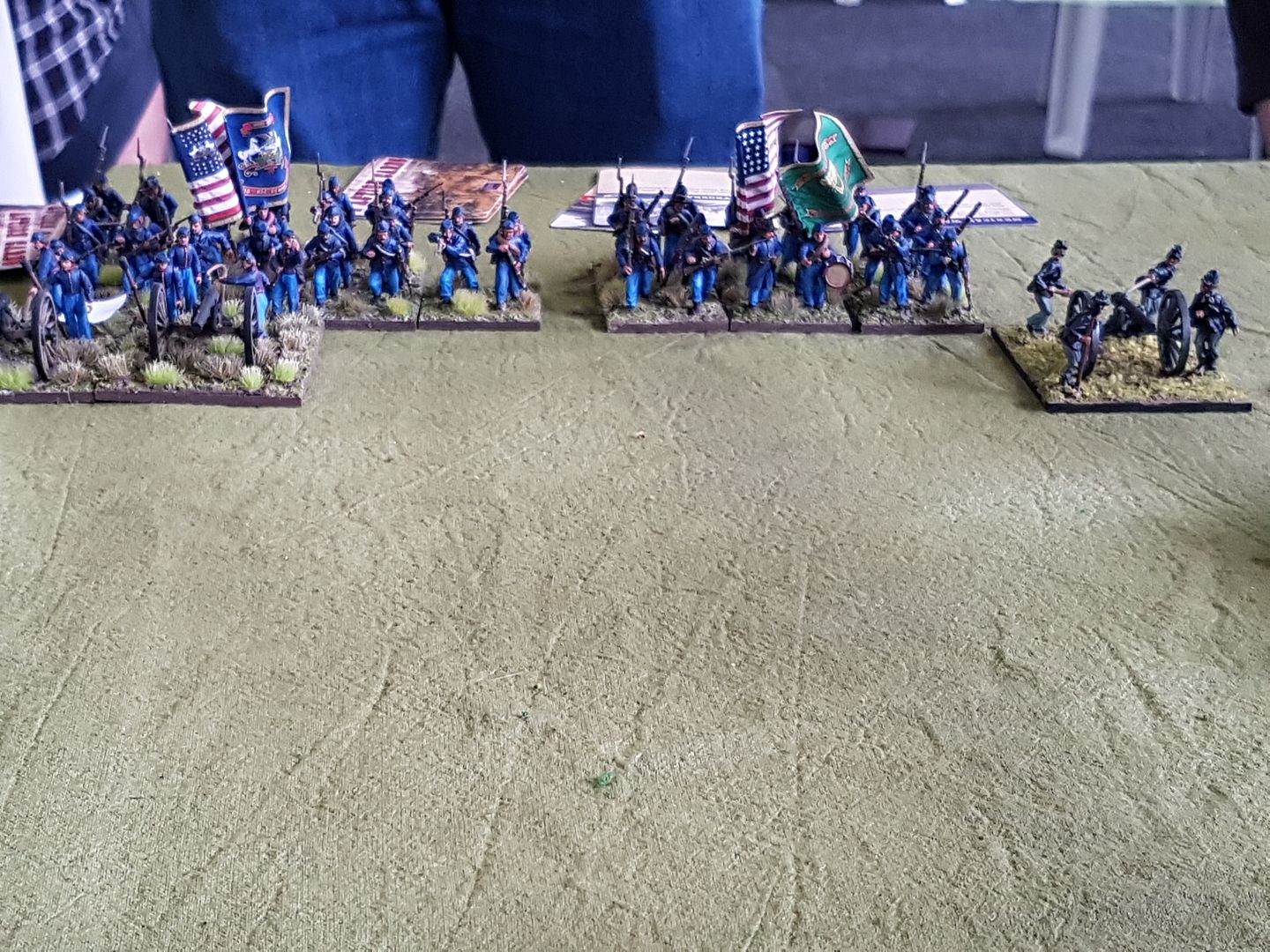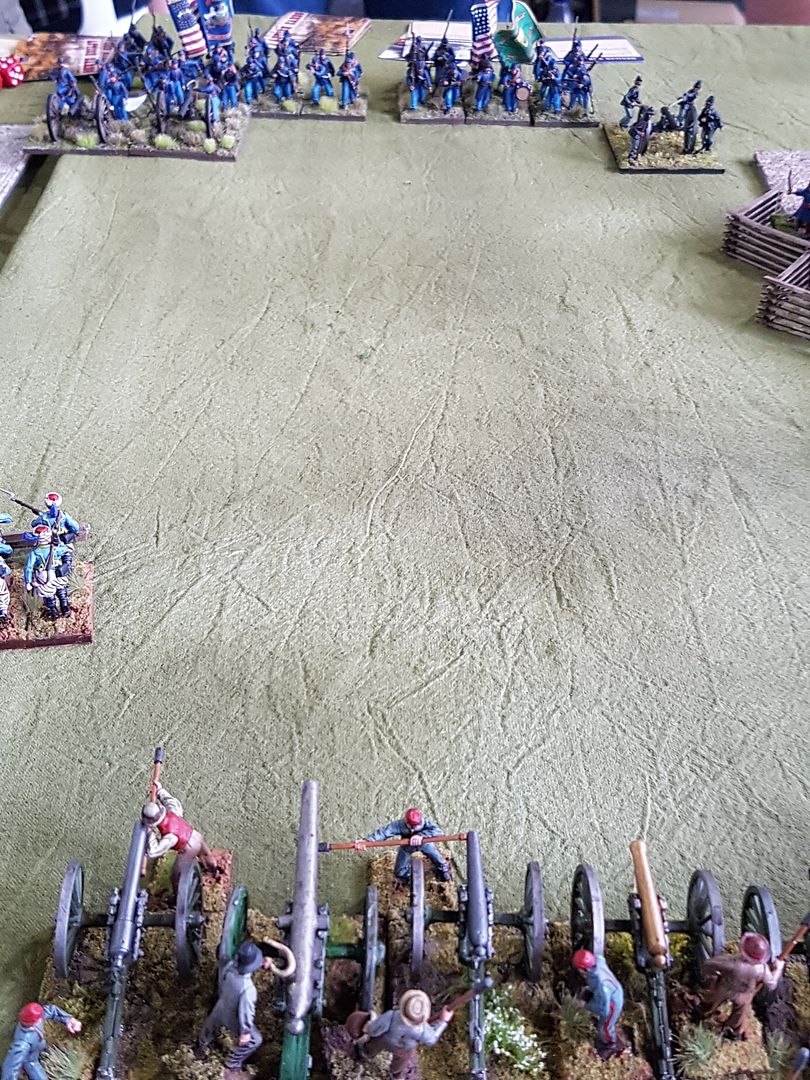 To my right Steve pushes forward with Sean being much more tentative.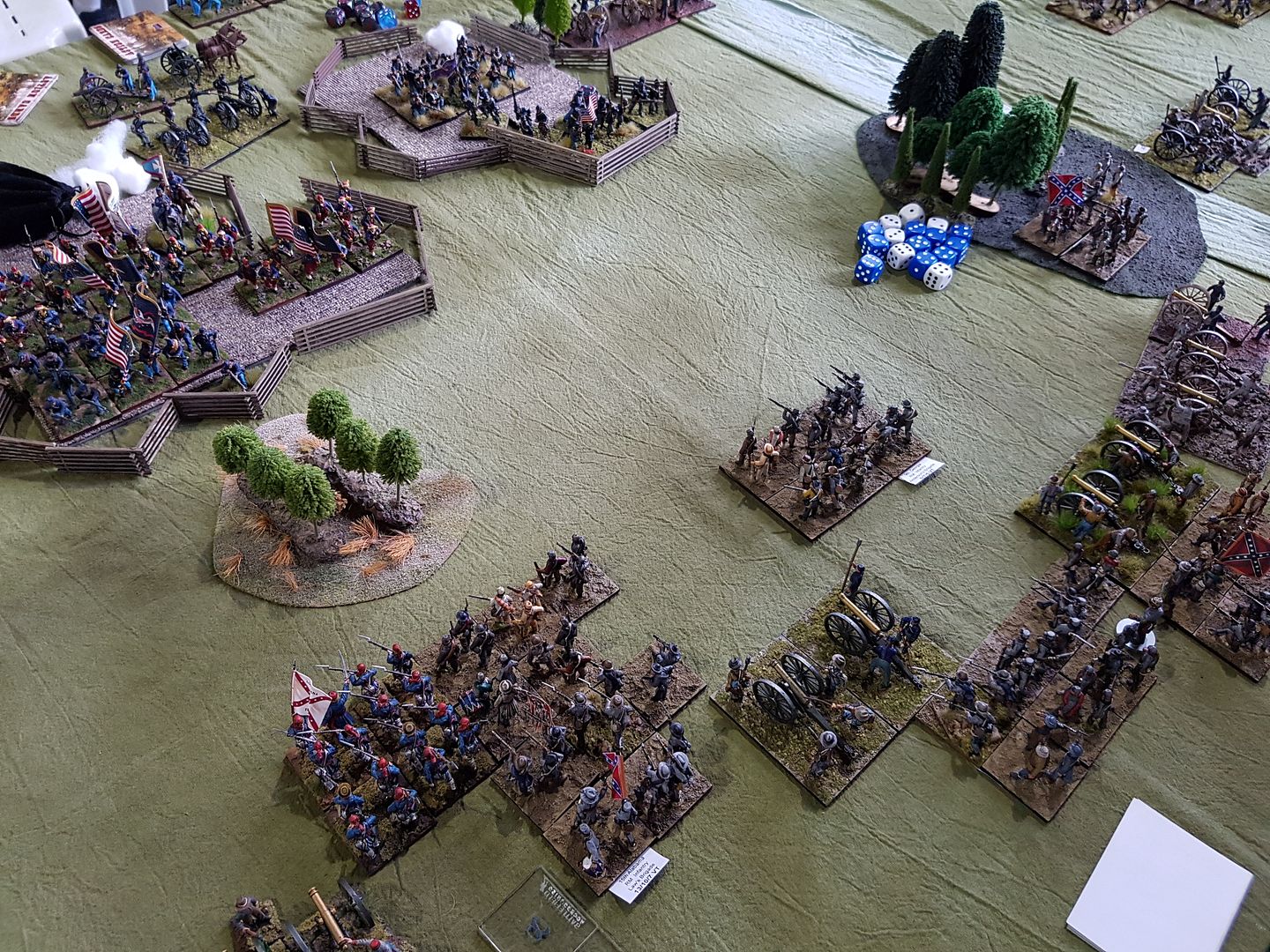 On my far left Steve was advancing. I sent my cavalry off on a J.E.B. Stuart type ride which kept a lot of Steve's troops constantly manuevering to face the wayward horsemen.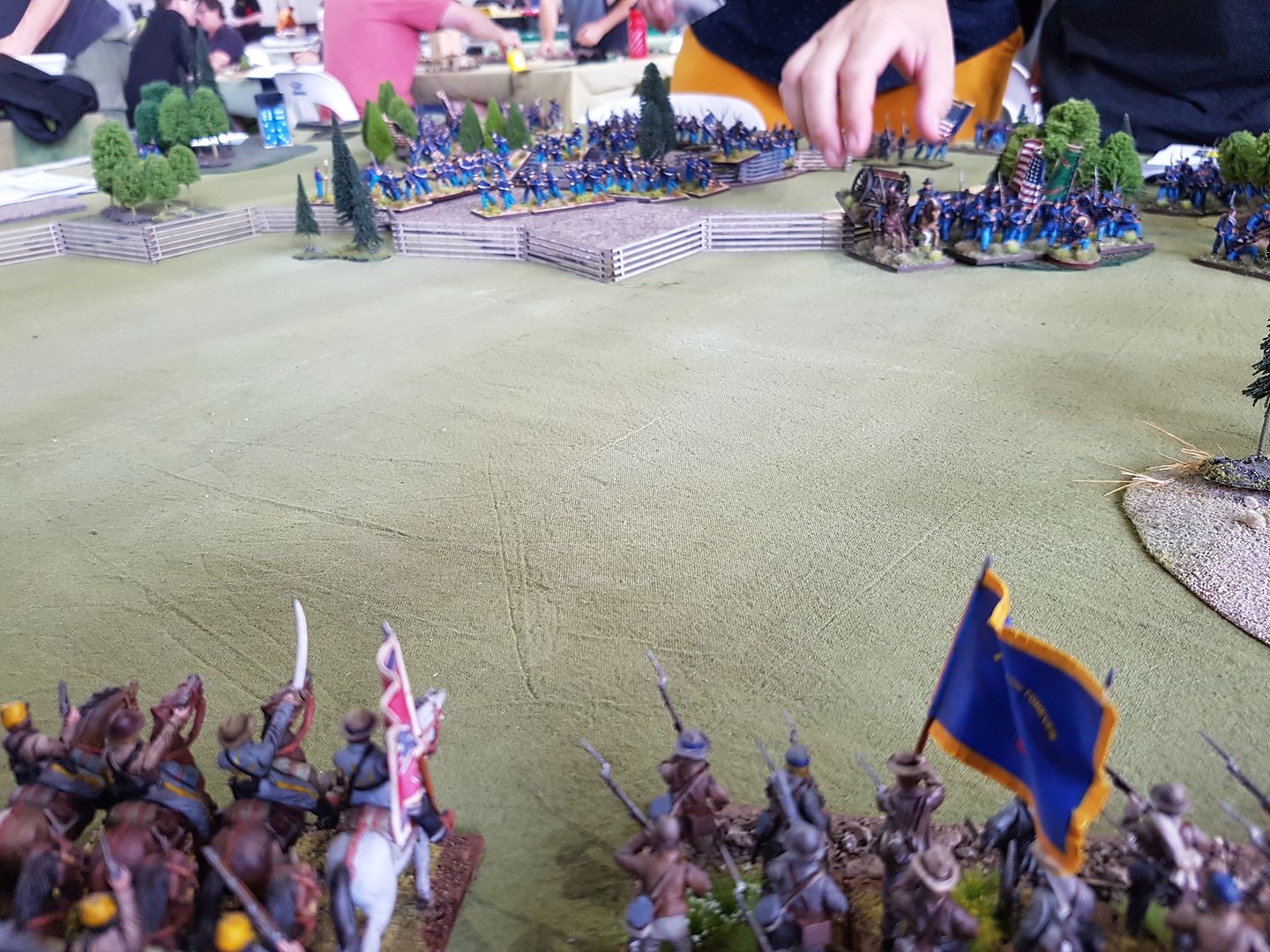 Steve charged in but had some bad luck, with not every unit making it thanks to the "Old Rivals" card. Still he managed to push James back but did not break him.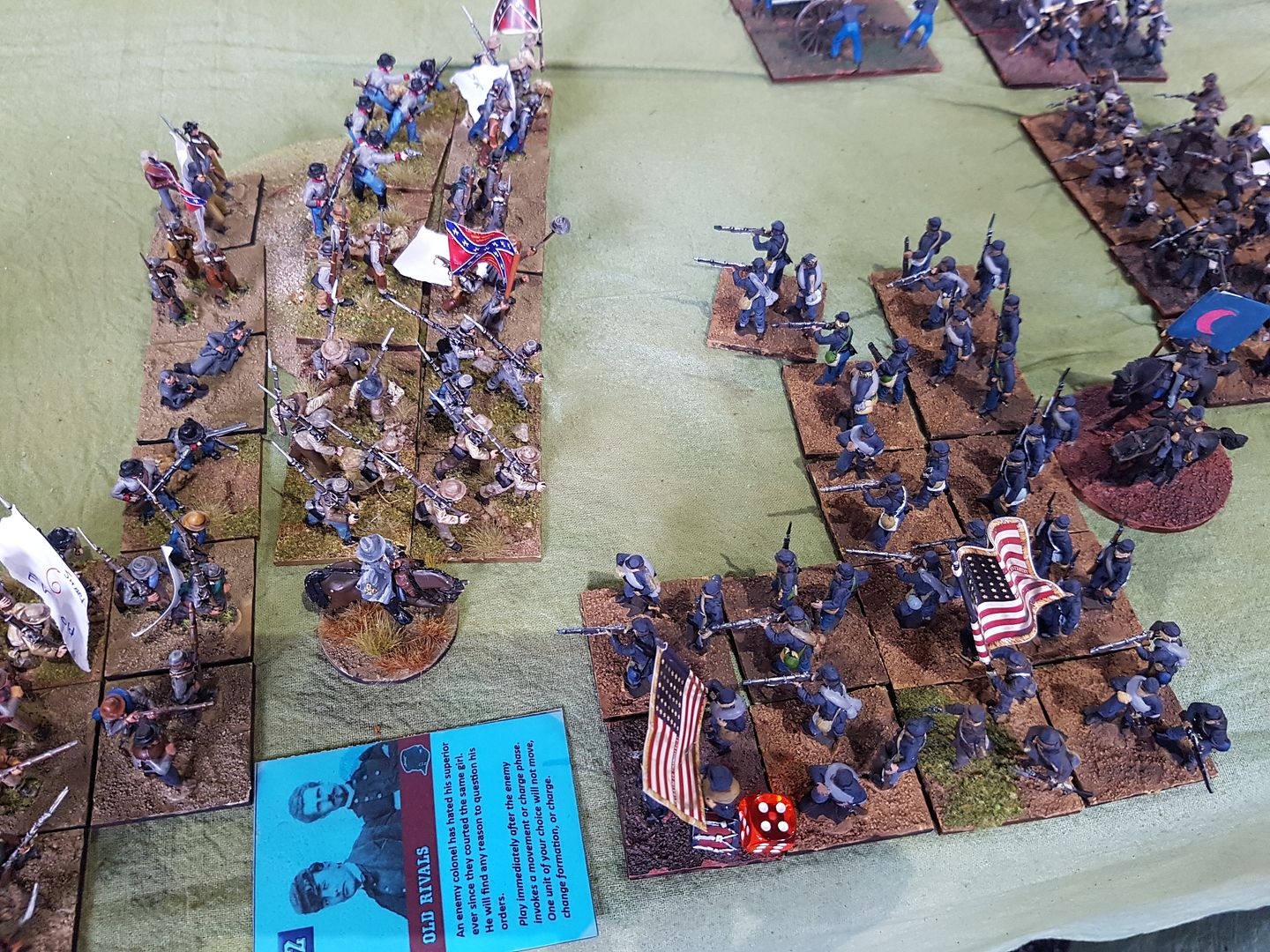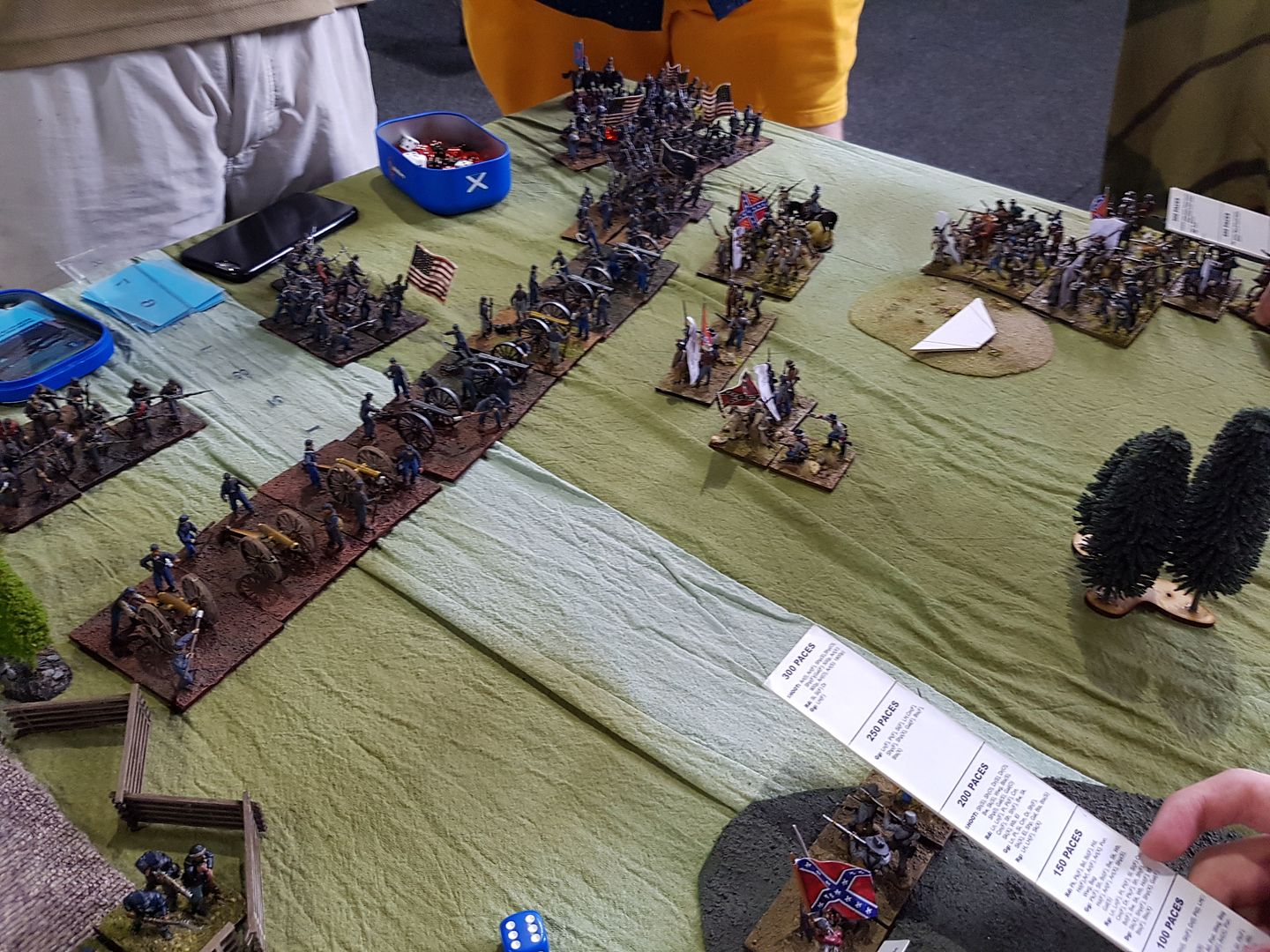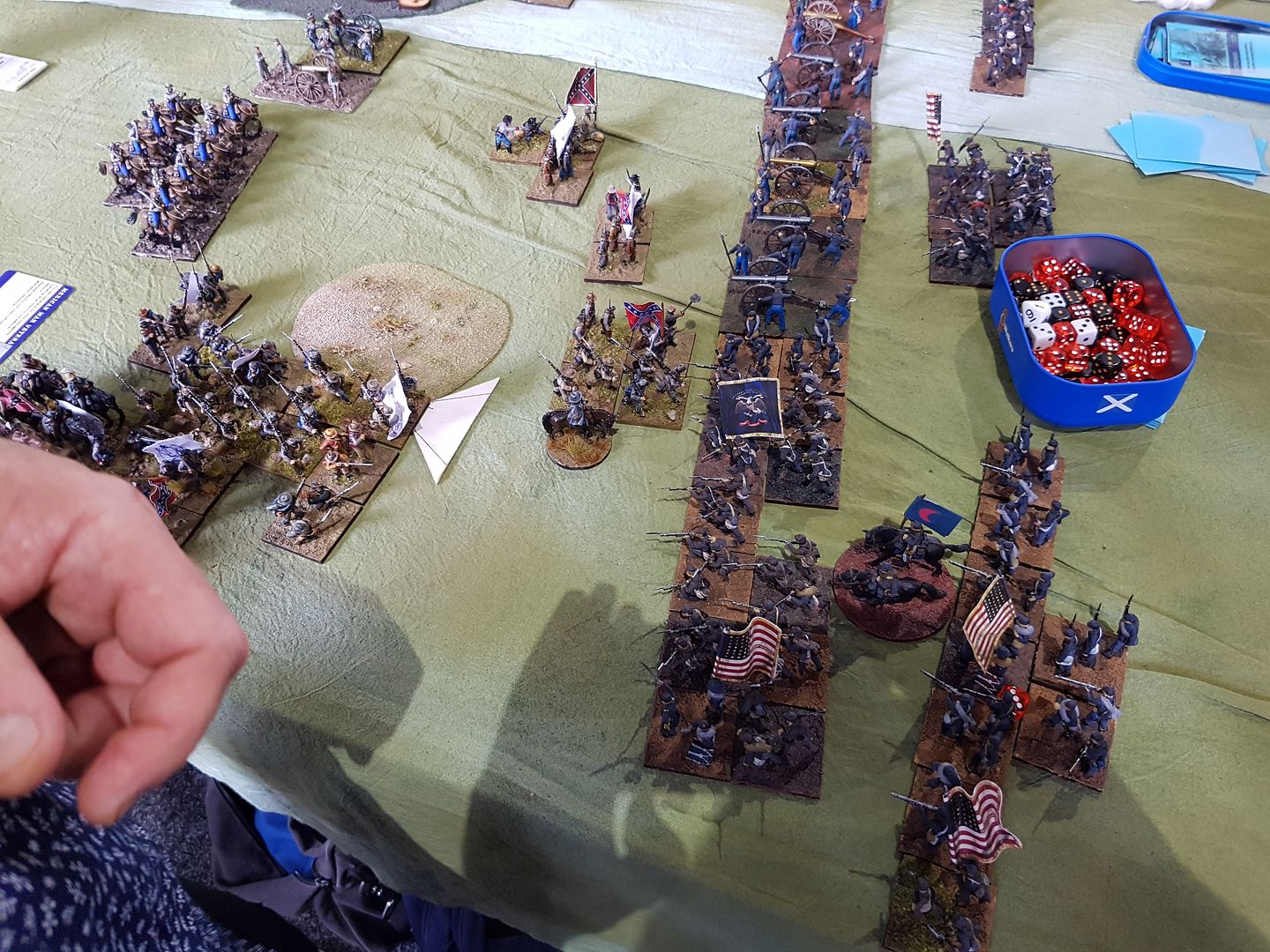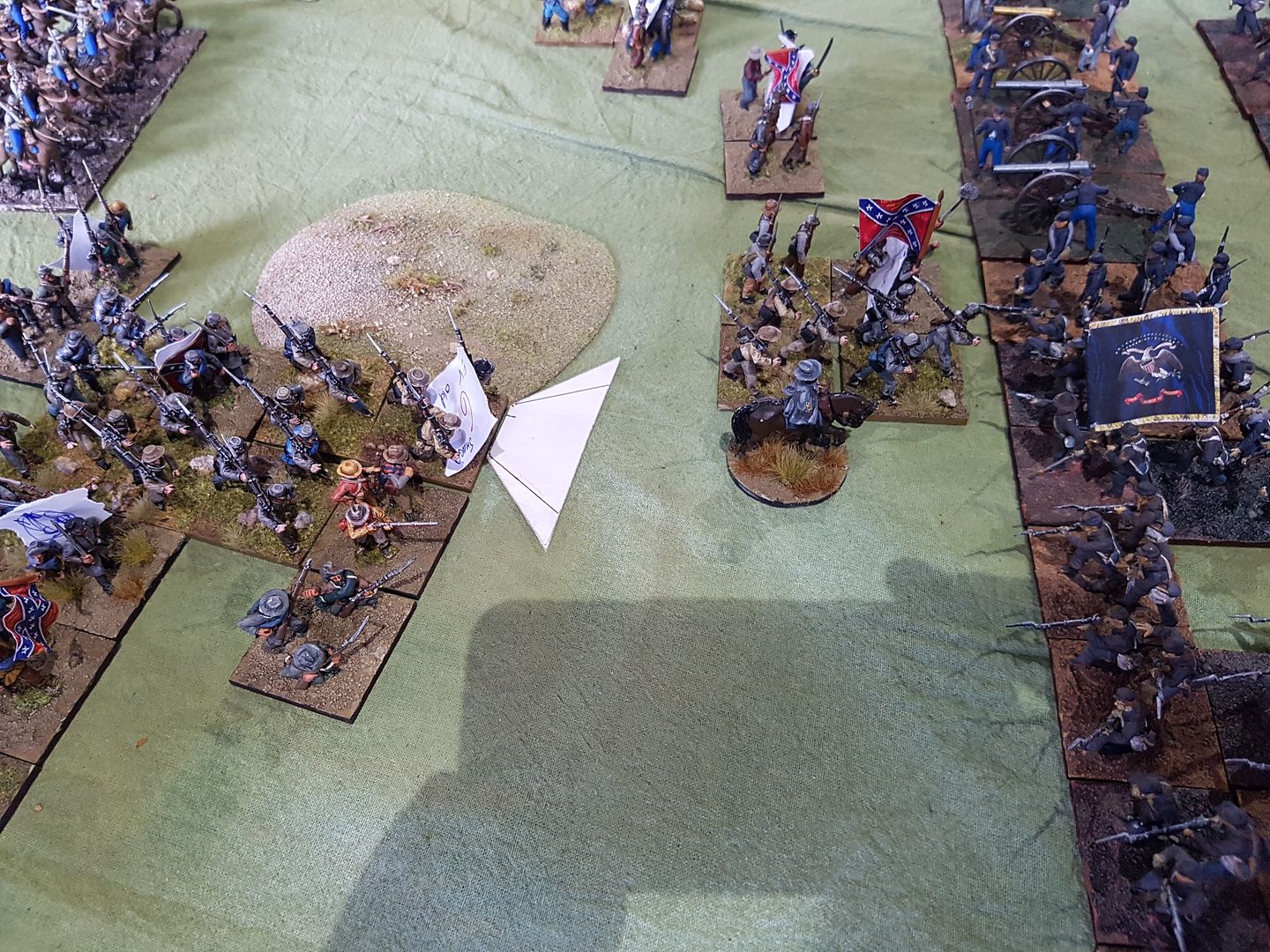 On my own section of the front my boys are digging in when Dave plays "Confusion" on me. This allows him to move one of my units in a valid movement. He chose to drag one of front most units foward revealing their flank. I was able to move another unit forward, but not quite far enough to cover the flank as well as personally join the unit to hopefully give it some chance in the combat that was coming.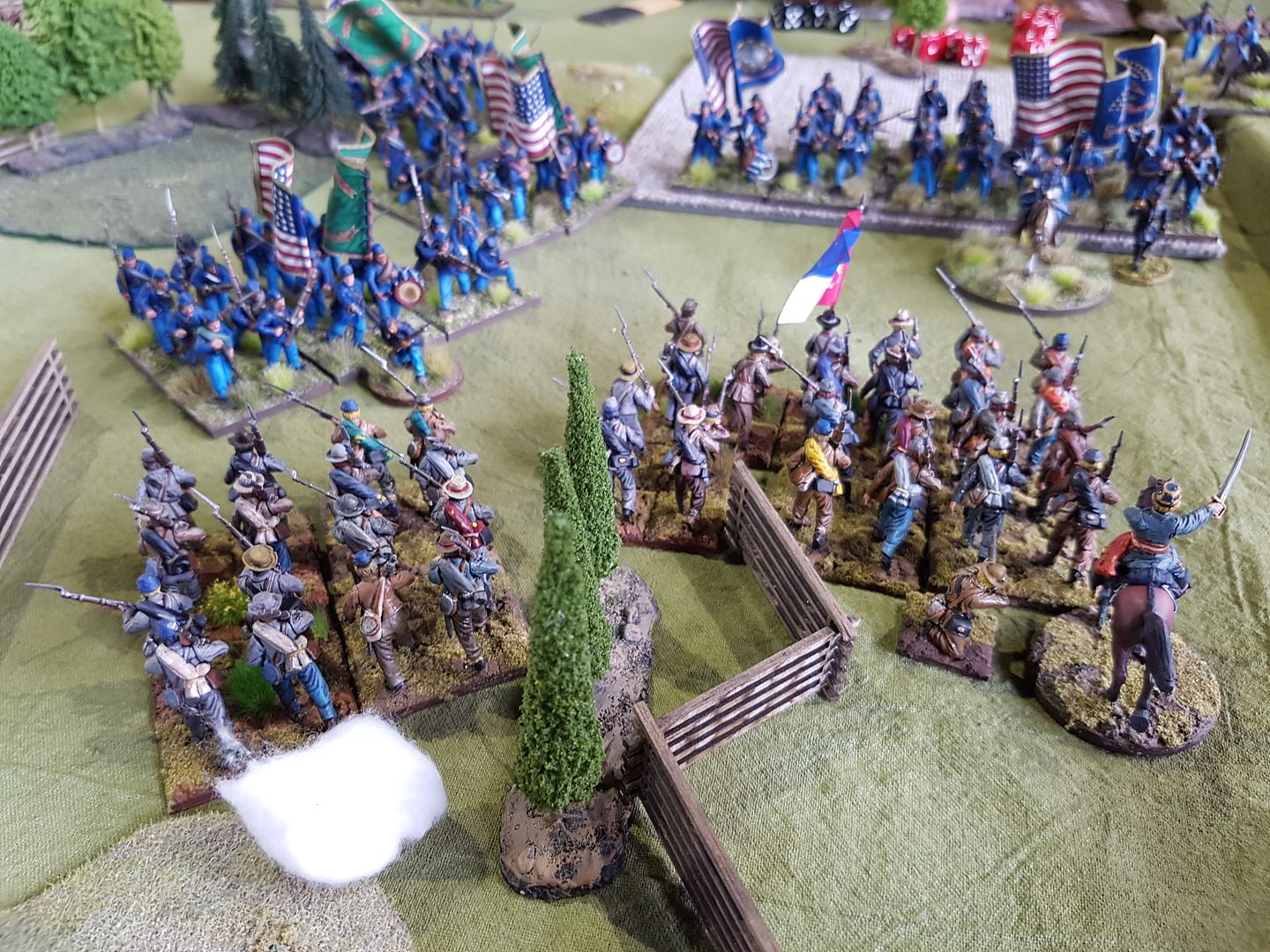 Flanked my boys, veterans using needing a 3+ on a D6 to hit, now need a 6 to hit. Dave had a slight panic as they didn't rolled under a 4 but only 2 6's.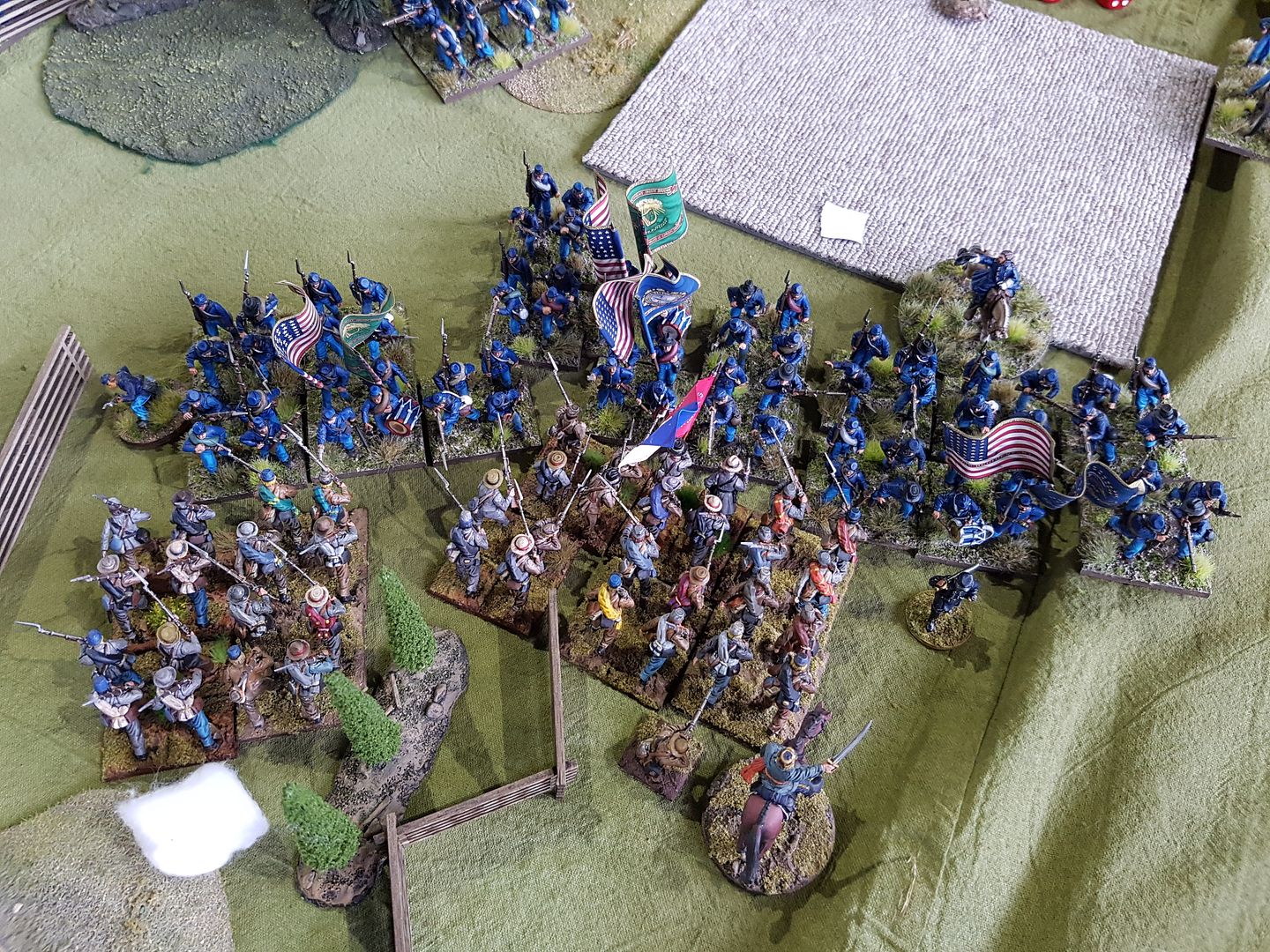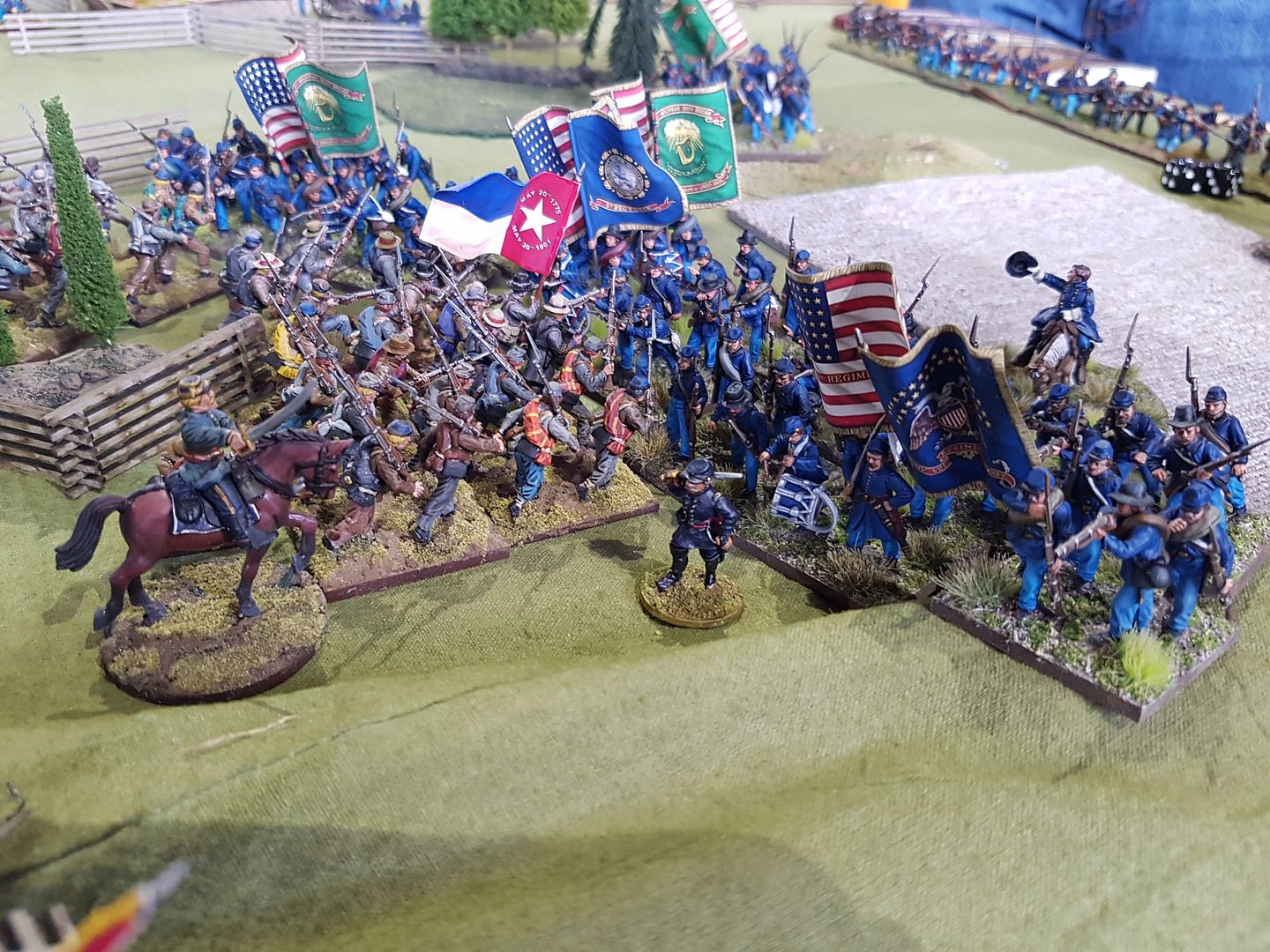 Outnumbered and flanked the boys fought well but scattered.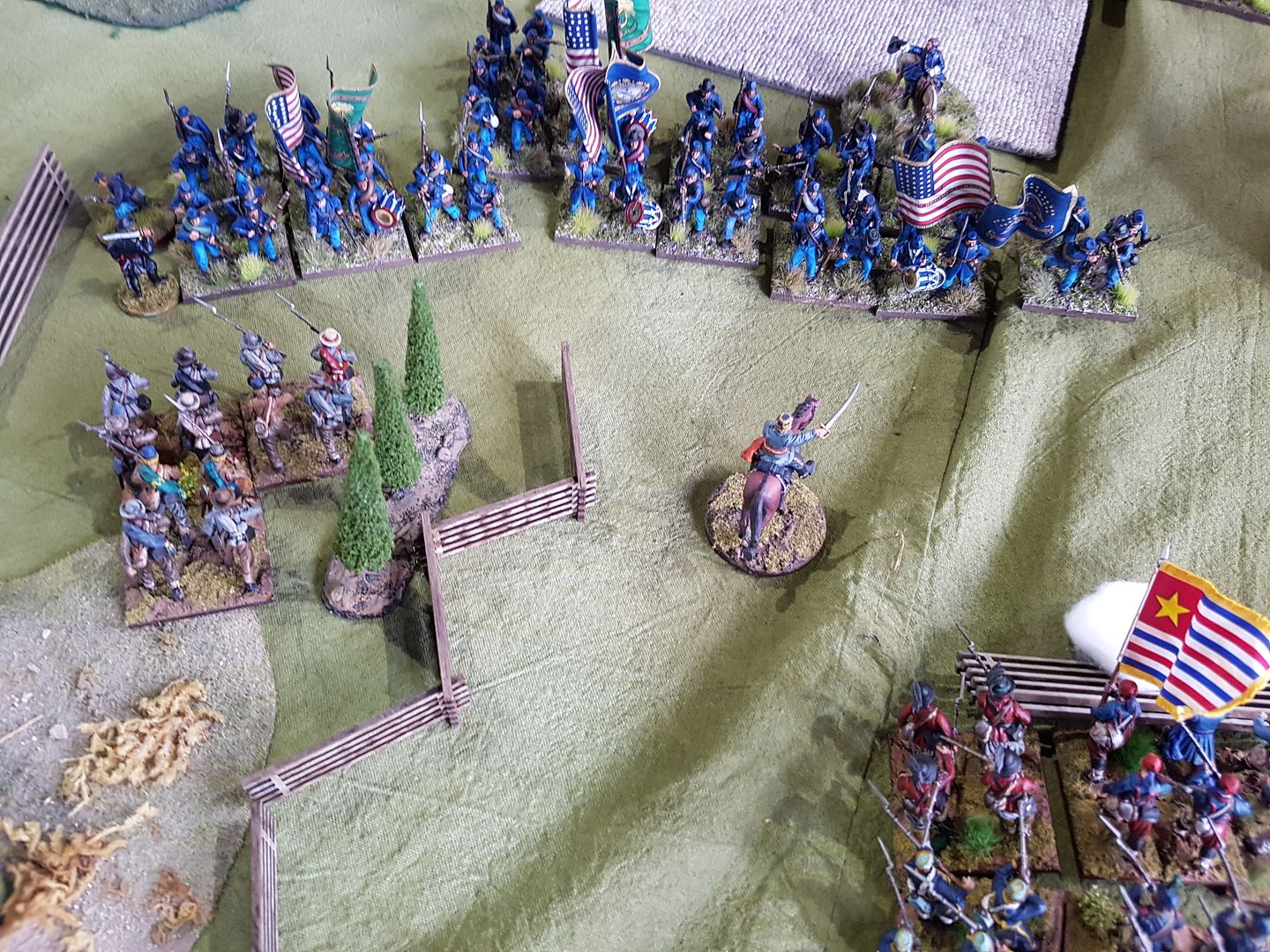 I pull units back to close the gap and protect the guns.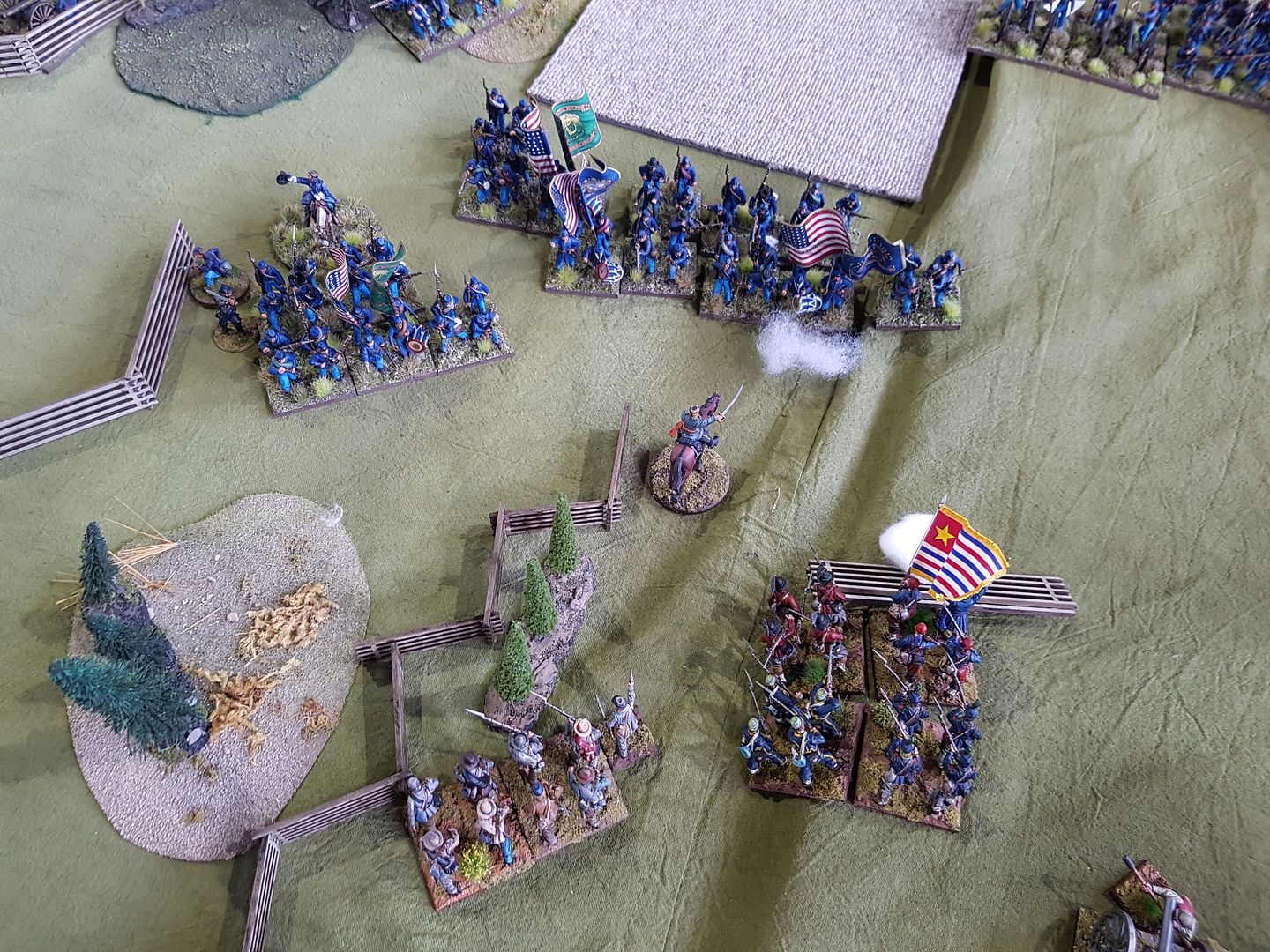 As I do this Dave pushes the Irish brigade forward into the teeth of the guns. Bye bye Irishmen.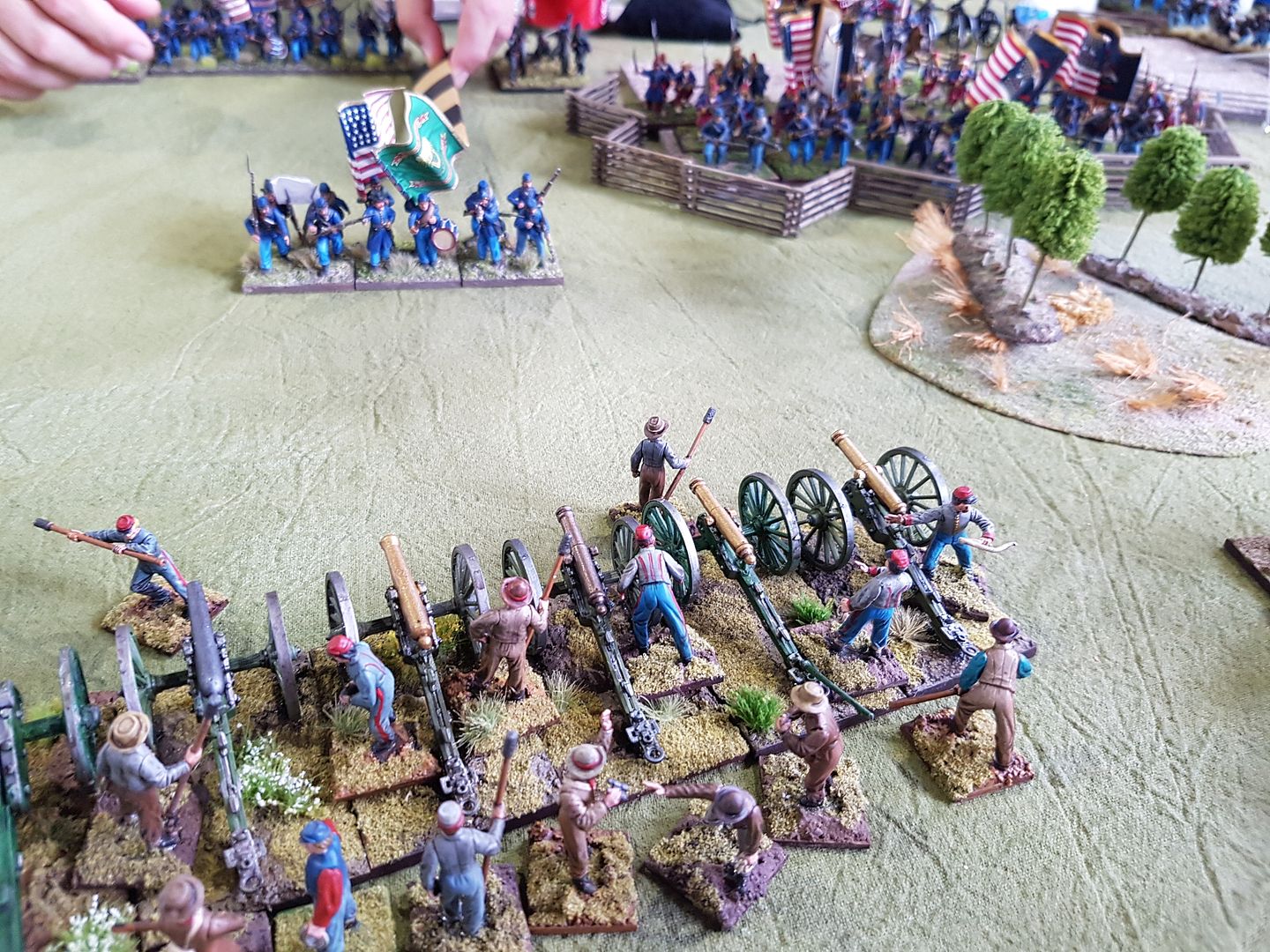 However his own rifle fire scatters the regiment plugging the hole in my lines.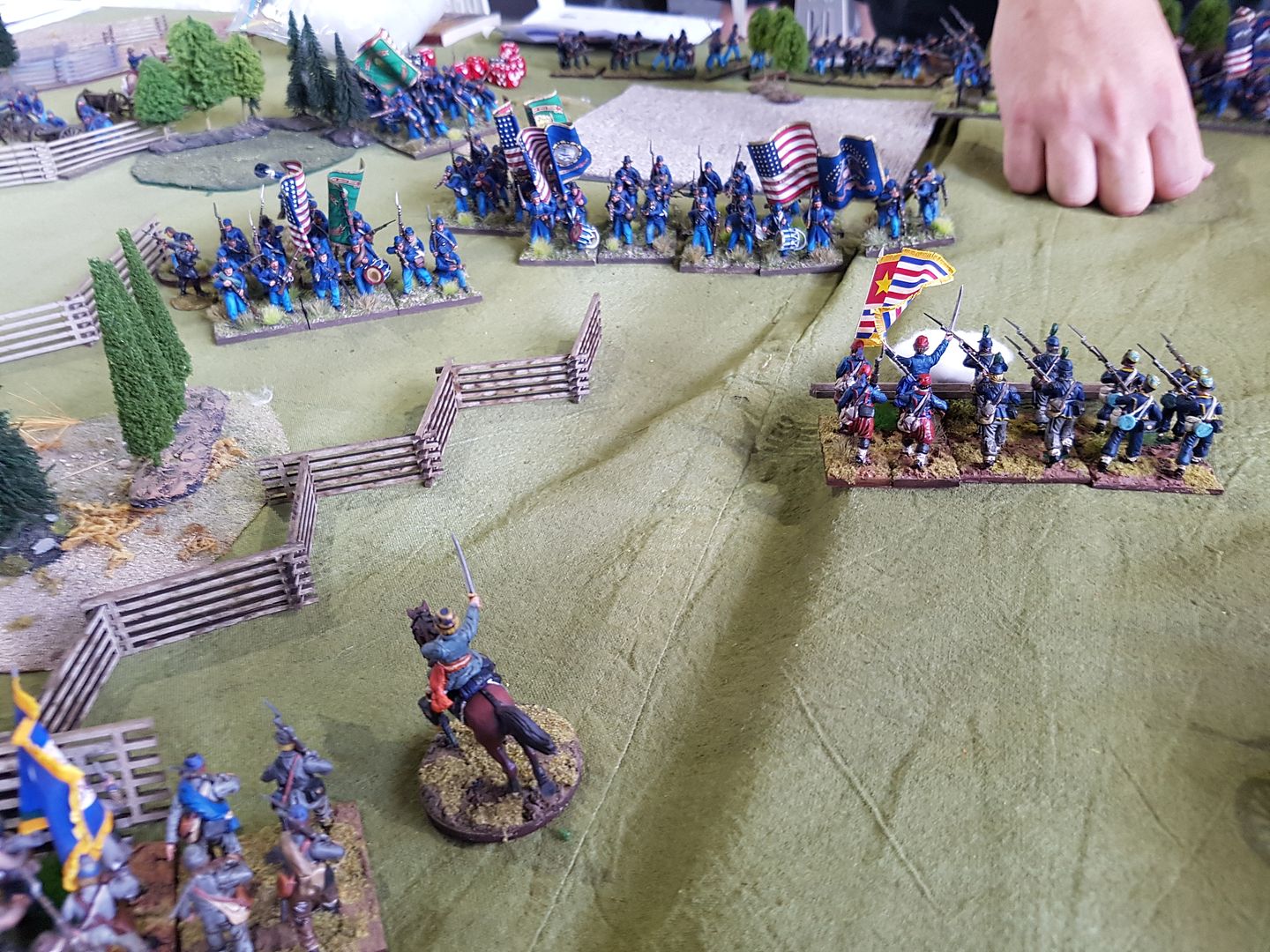 Through this gap the Blue coats pour even as my guns take a heavy toll on another Union unit that followed the Irishmen.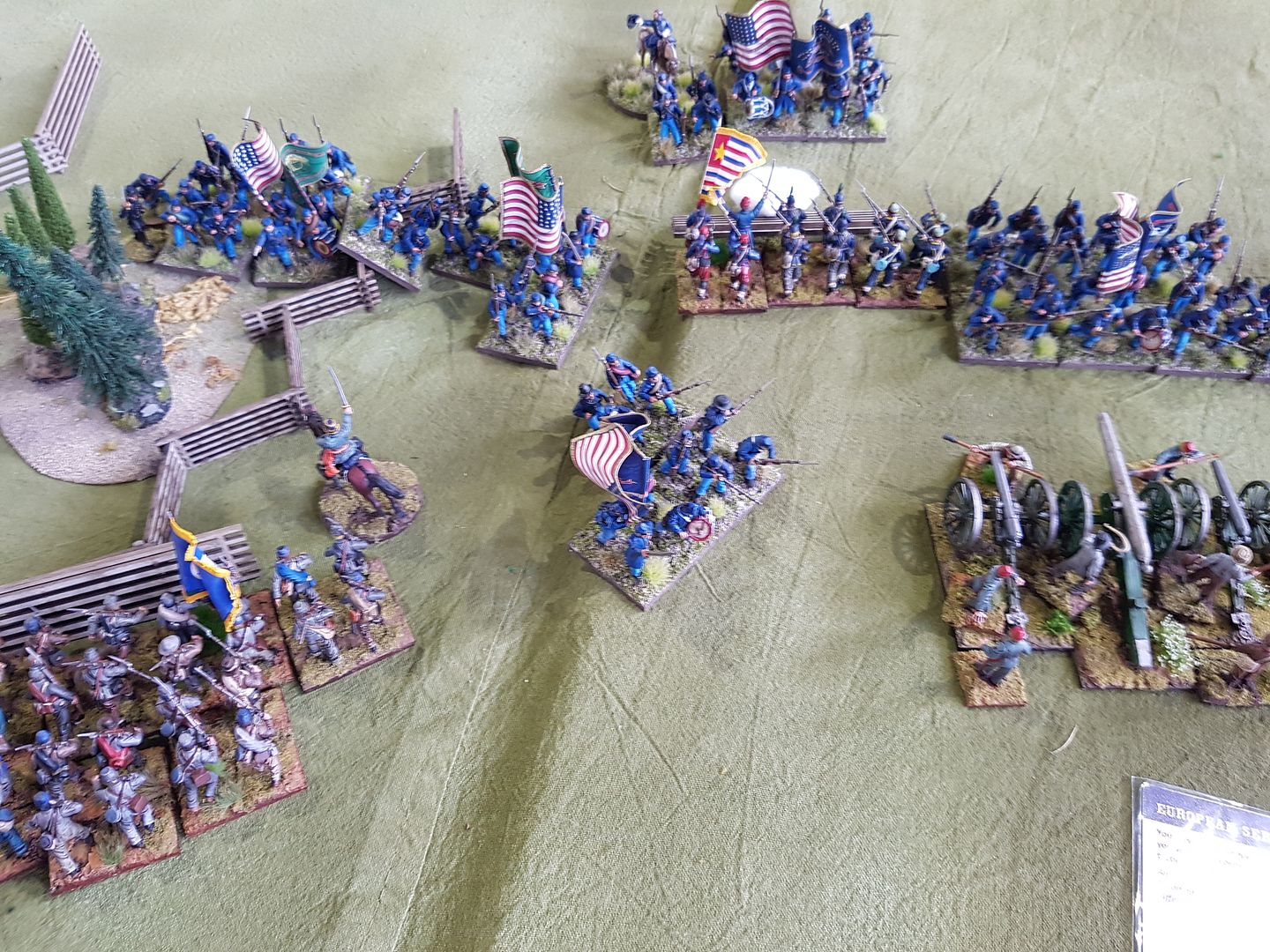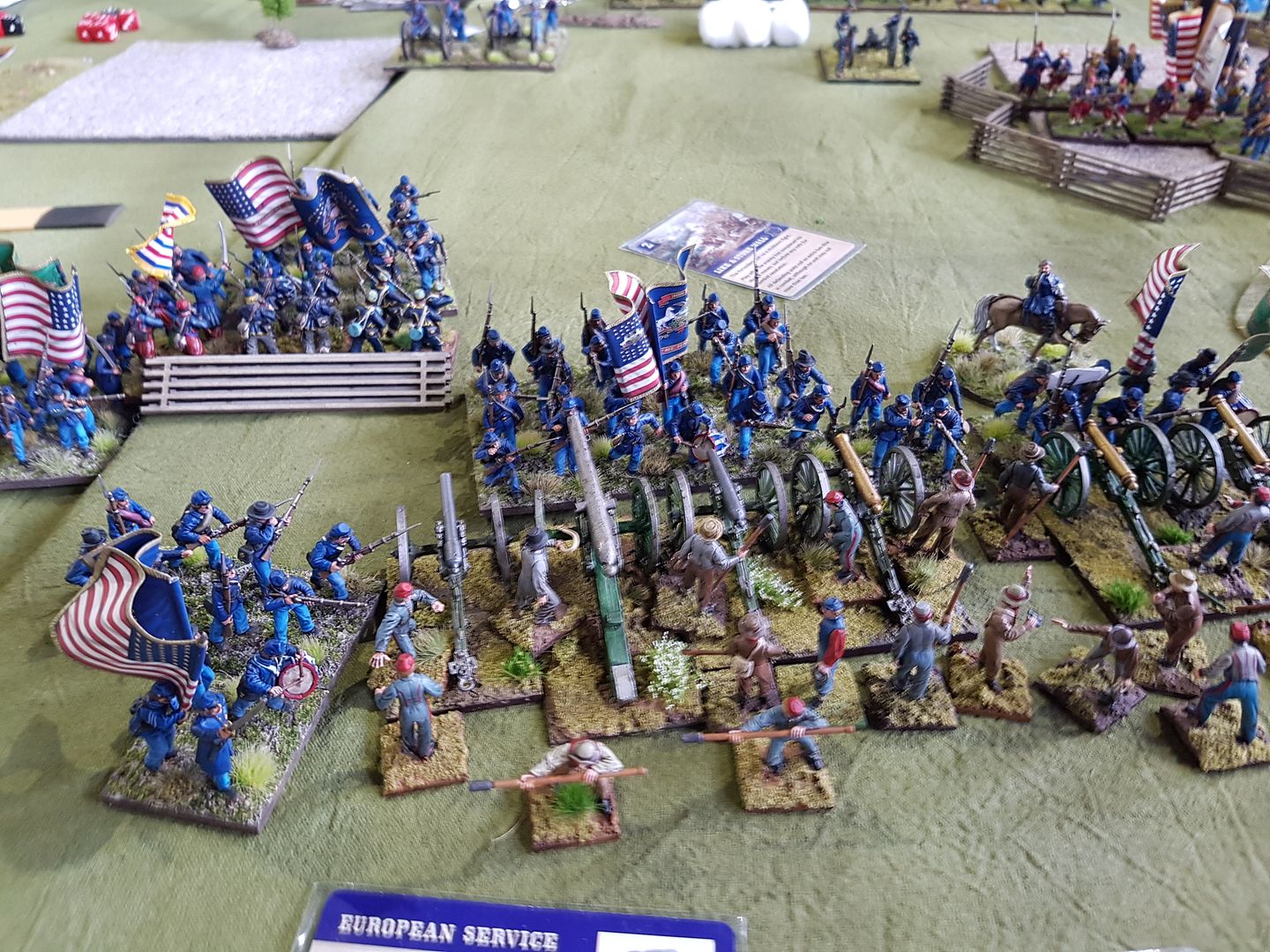 To my right Sean moves forward to try and restart Steve's attack.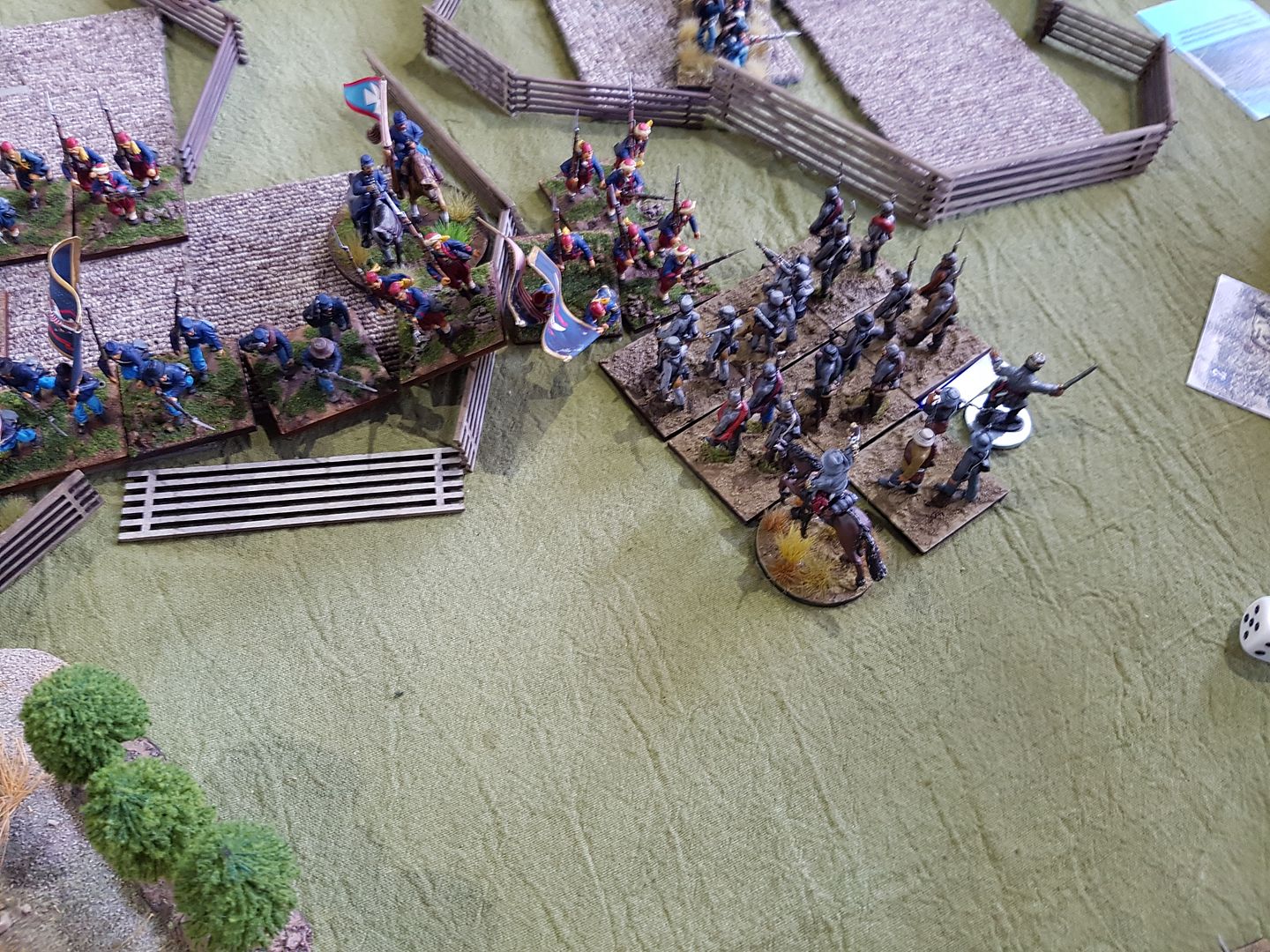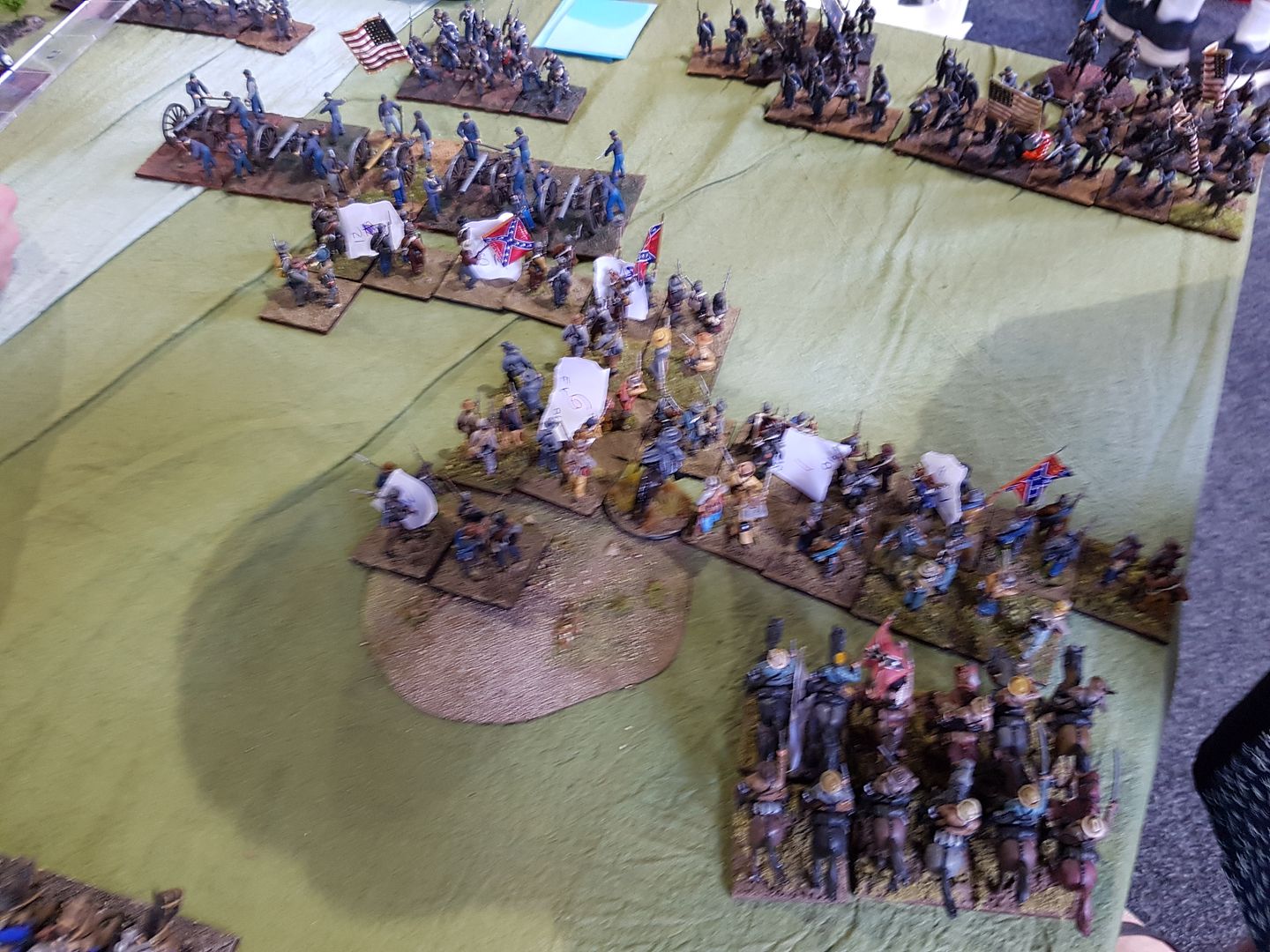 With my lines collapsing there seems to be little I can do to stem the tide. So we take the risk and go for glory, CHARGE!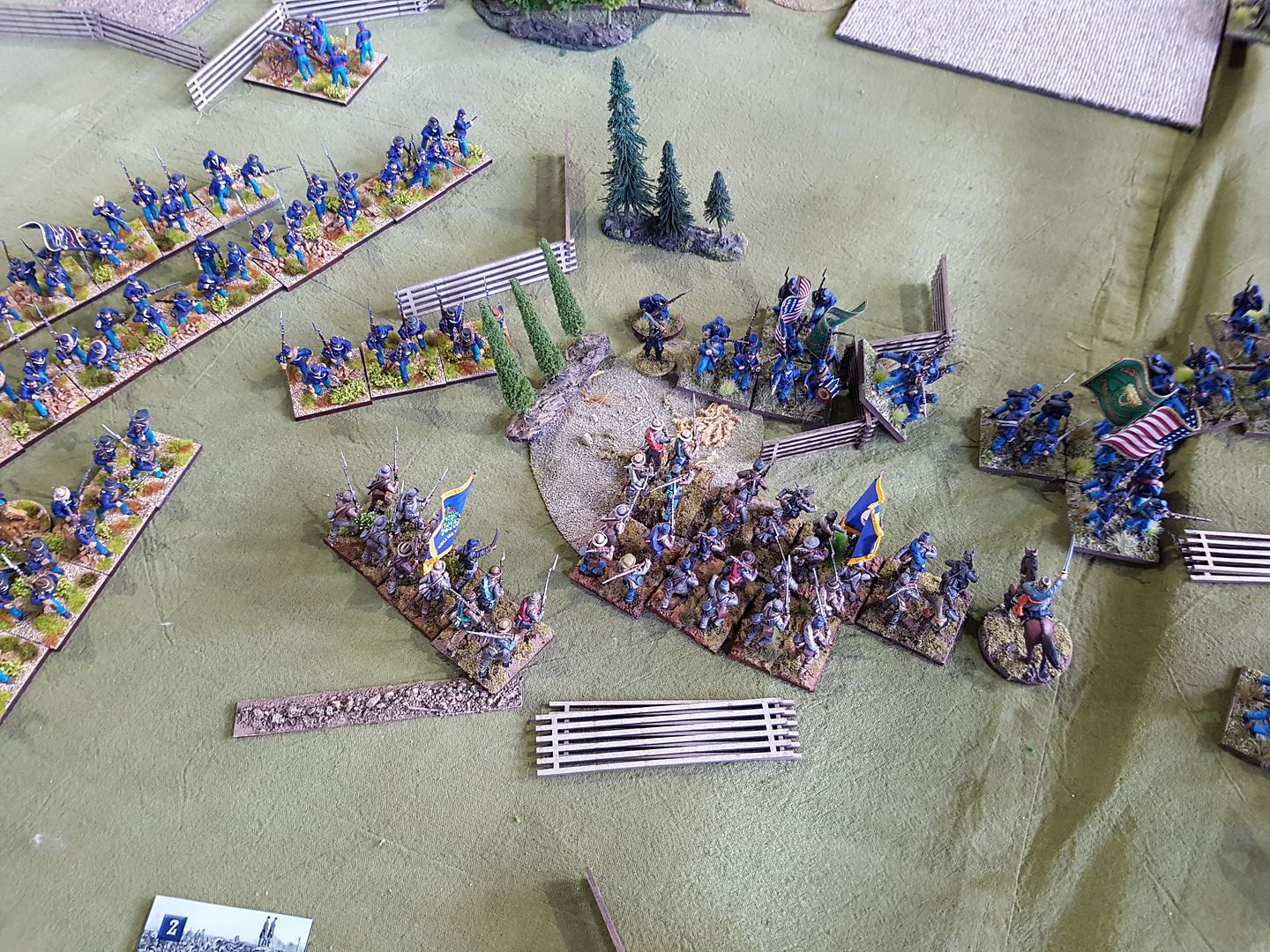 At the same time Sean and Steve make a final attempt to bring the Union lines as both sides are close to their break points.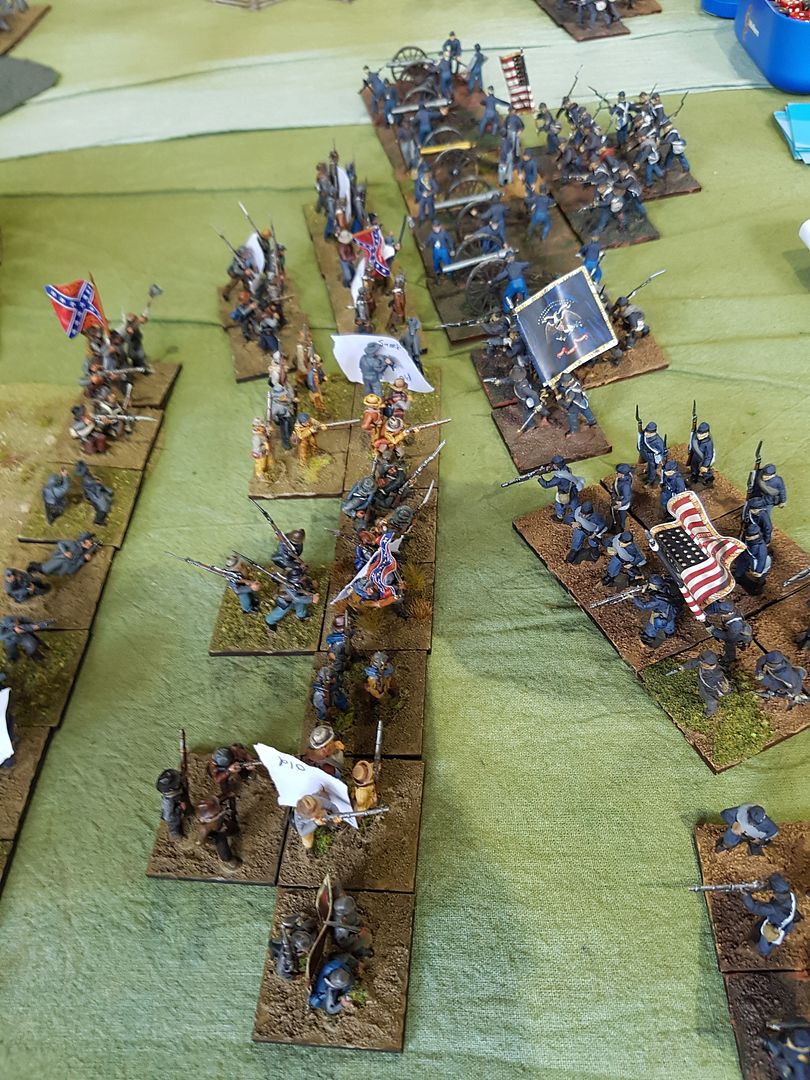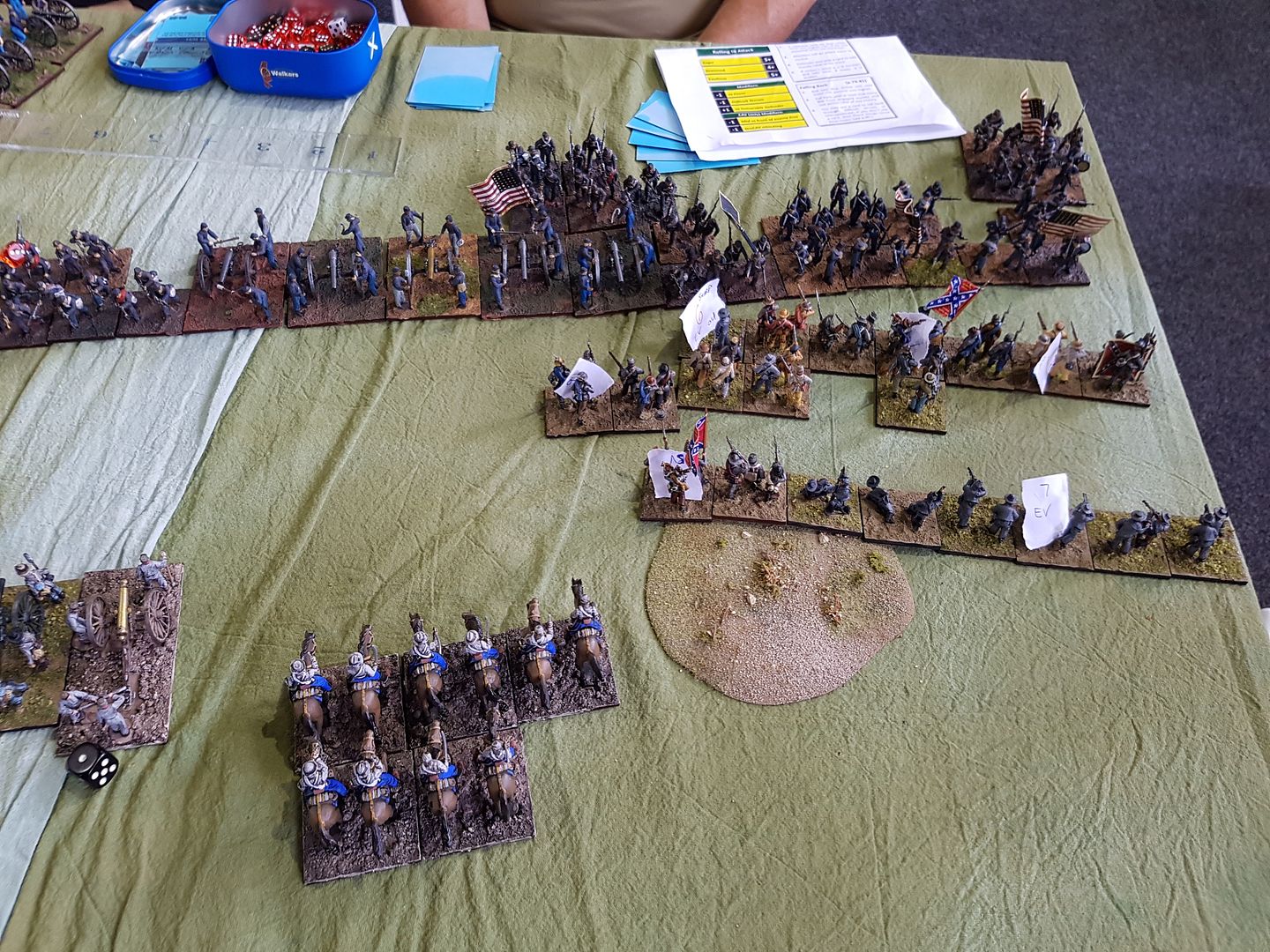 However all our attacks are beaten back and the Confederate army has reached its break point.
Though the Union was victorious, McClellan won the presdiential election and sued for peace with the Confederacy becoming independent.
Thanks to all for a very enjoyable weekend, even though I got beaten most of the time. Particular thanks has to go to the Penisula Praetorians for organinsing and running the whole thing.