The Longstreet "tournament" was a very relaxed affair. More a pair up, move figures around the table and have fun.
There were 20 players evenly split between Union and Confederate and the board game "A House Divided" was used to give the games so wider context. The idea being that each side started with 5 attack markers each and would alternately place these on the map to designate where the battles would take place. For each victory each side would earn an attack marker for the next round. All pretty simple and it seem to work really well.
I drew "artillery" officer for my biography card. And with that Colonel Jean Georges Carnot and his 1st Louisana Brigade consisting of 1st Louisana Special Battalion, 1st Louisana Combined Militia Volunteers, 4th North Carolina, 2nd Lousiana Cavalry and Battery D of Washington Artillery of New Orleans, went to war.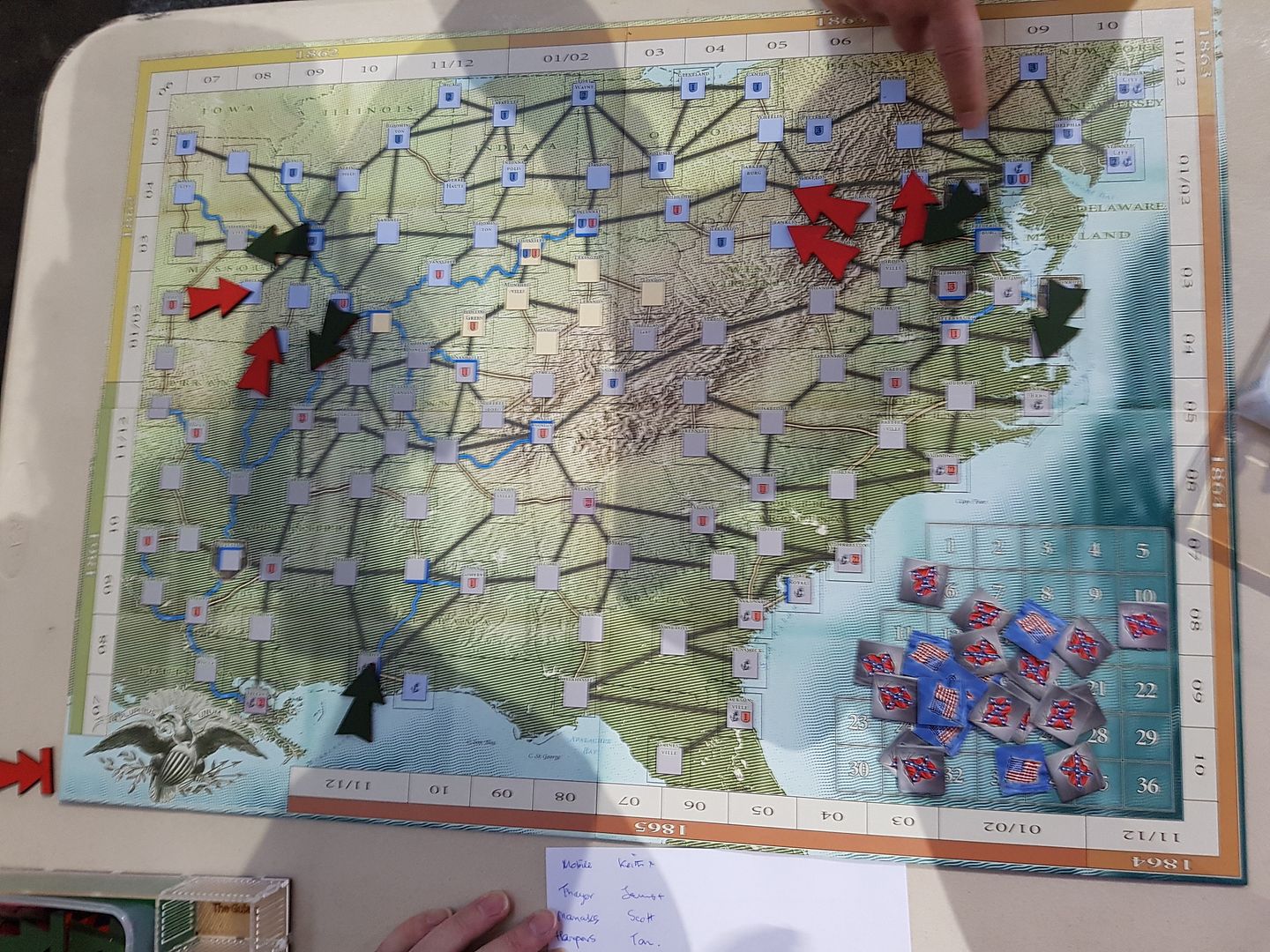 Intial battles. The Red arrows show Rebel attacks.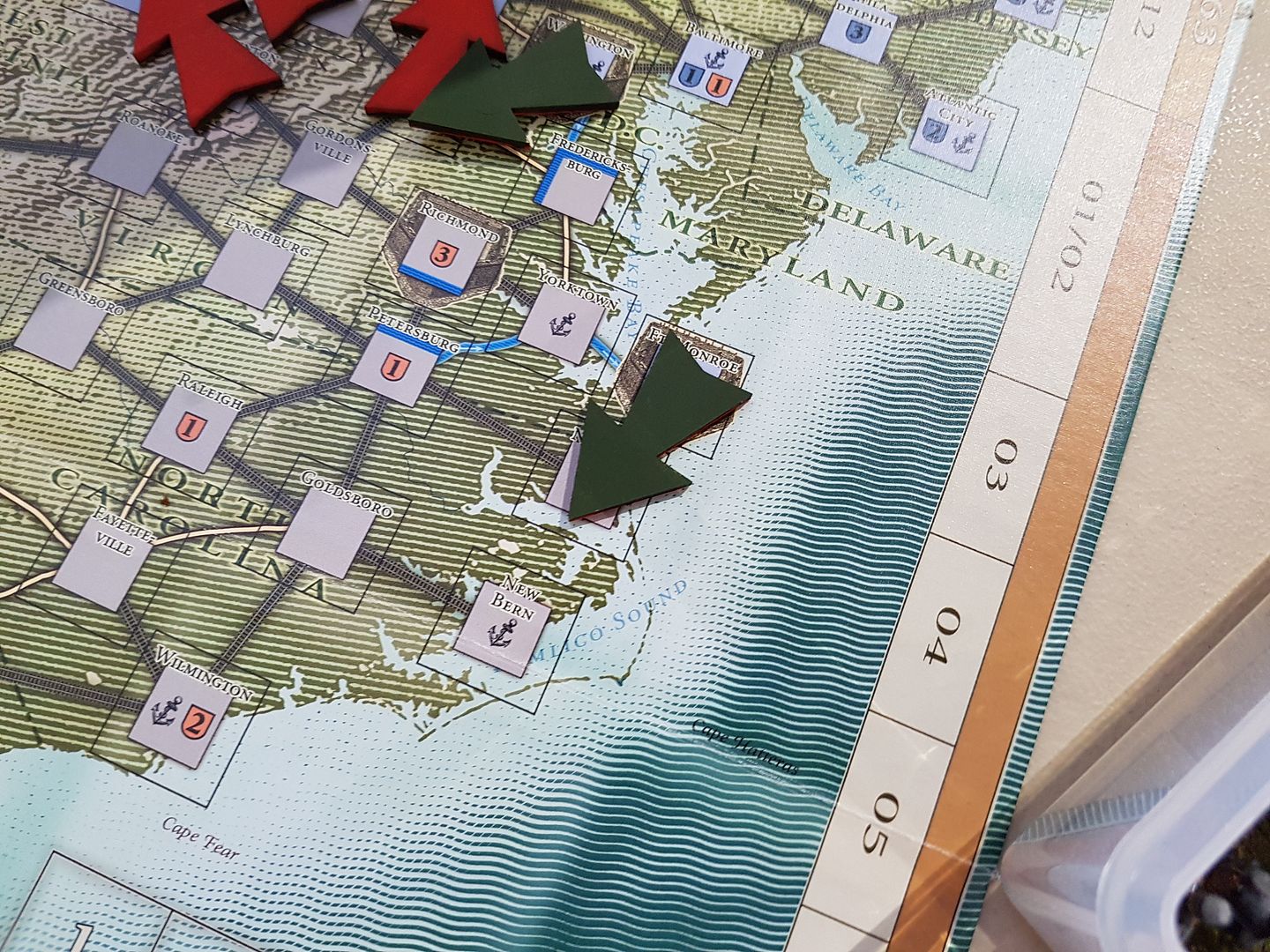 Union Naval landing at Norfolk where I would be defending.
My opponent Mark and I decided to just line 'em up and have a good old stoust without refering to any of the scenarios in the rule book.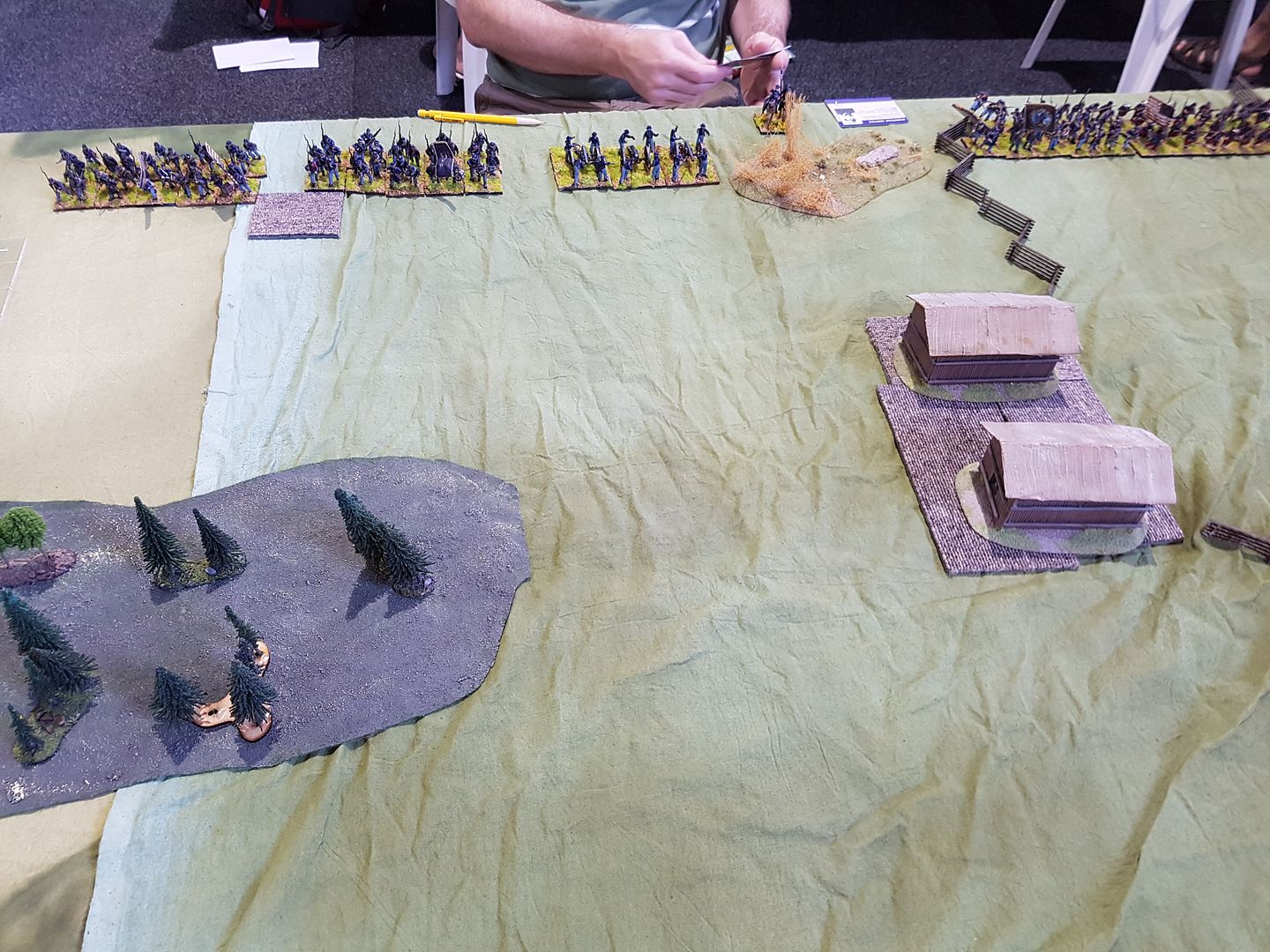 Deployment.
On my right flank I managed to get to the fence first and then sat there. Mark advanced and then sat there, just out of range. And that was how it was for most of the game, neither of us game to move. The guys on the left of shot are my dismounted cavalry.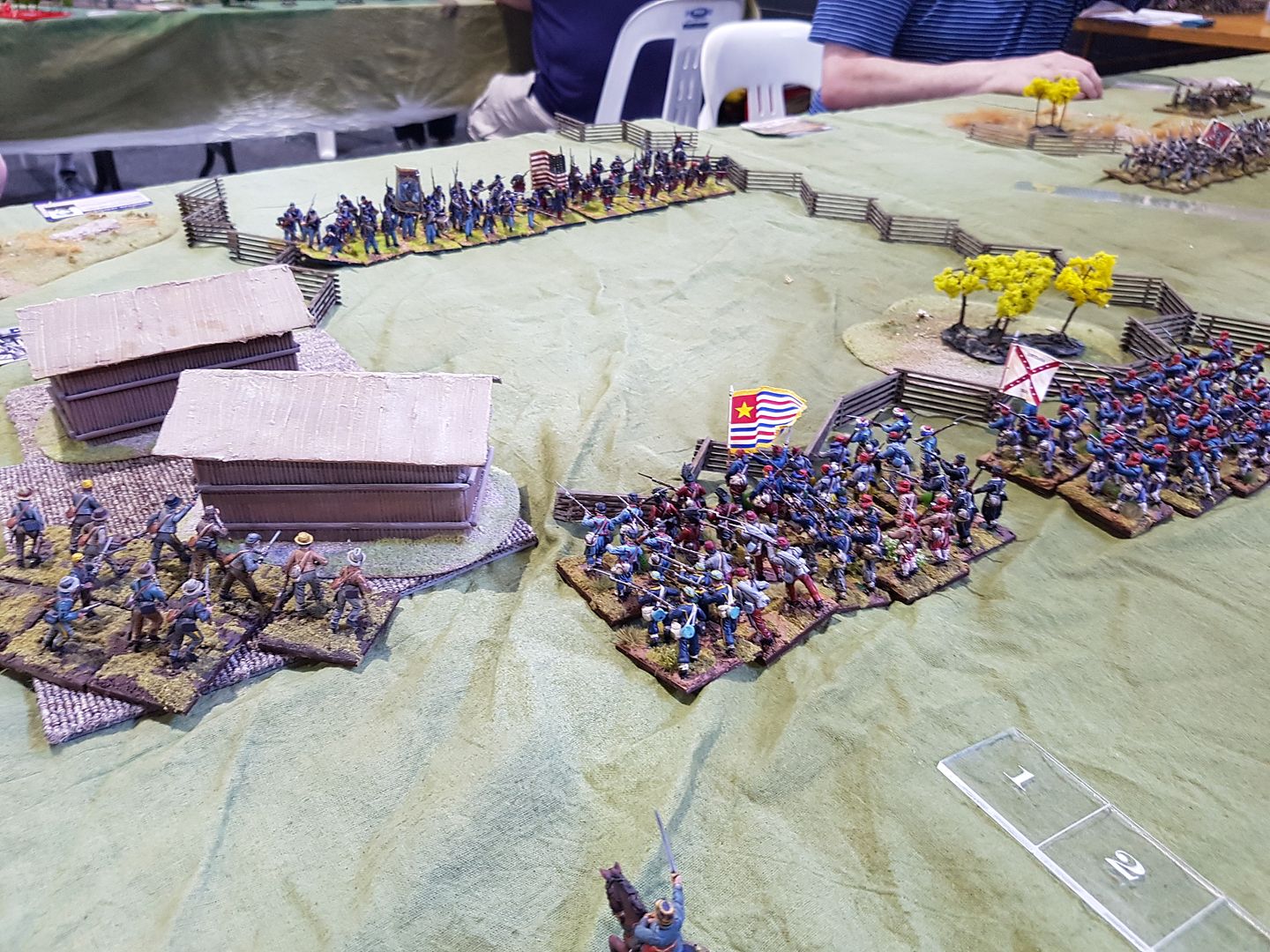 On the right I held the woods and was skirmishing quite well for a bit. Mark elected to swap a cavalry unit out and take an infantry regiment. This was a tournament option.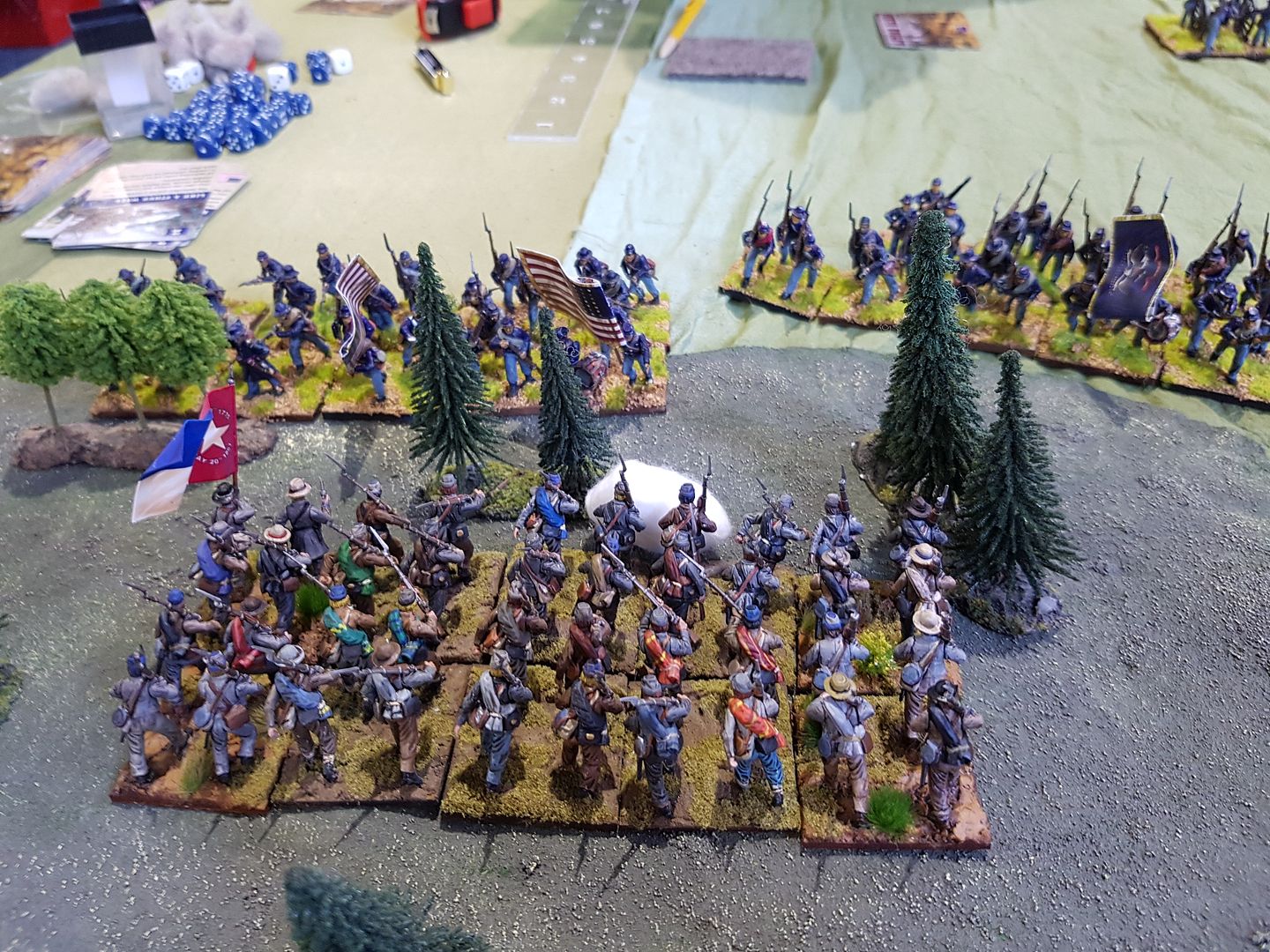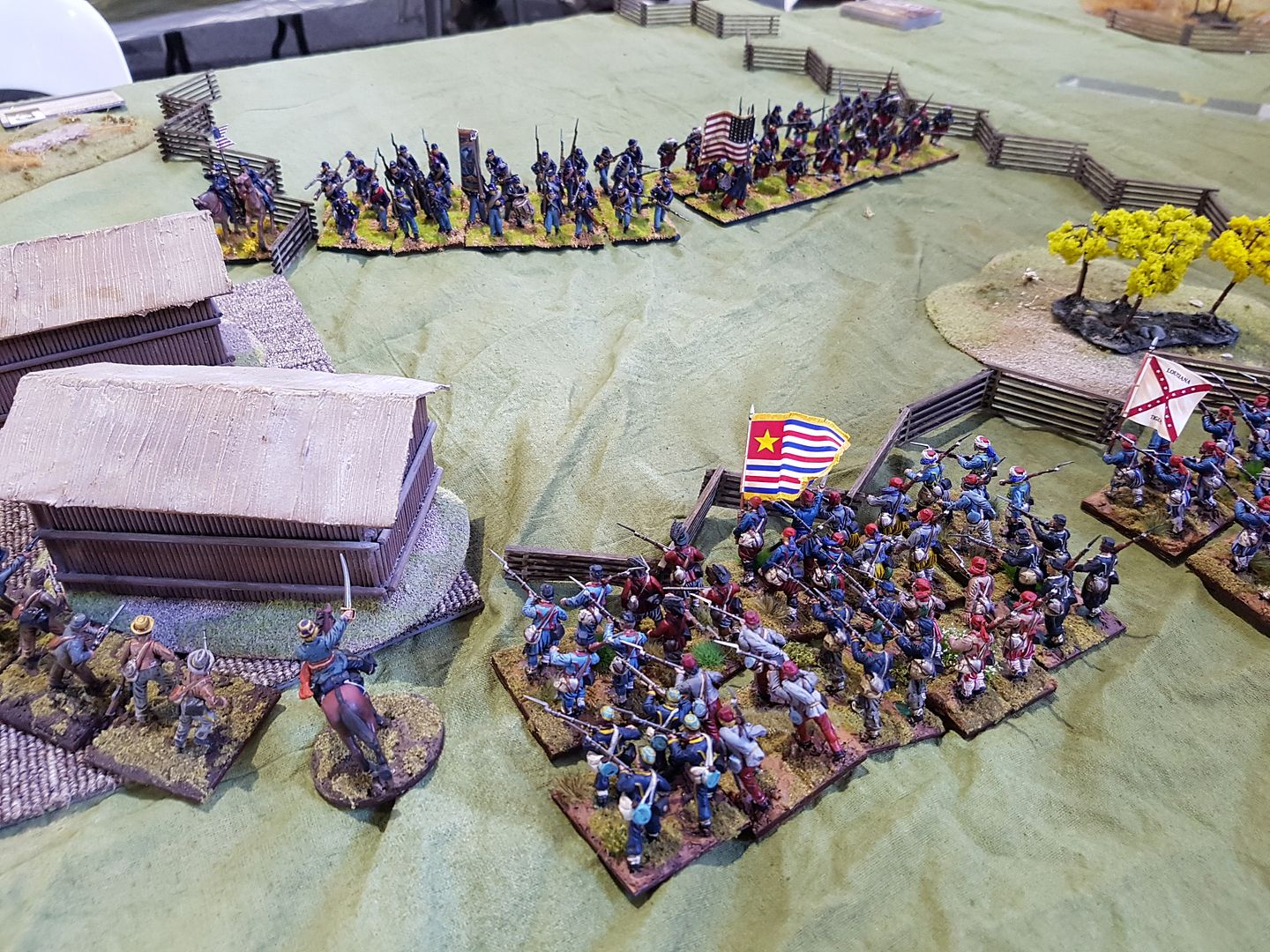 Mark eventually charged in and managed to beat my boys back and drive them out of the woods.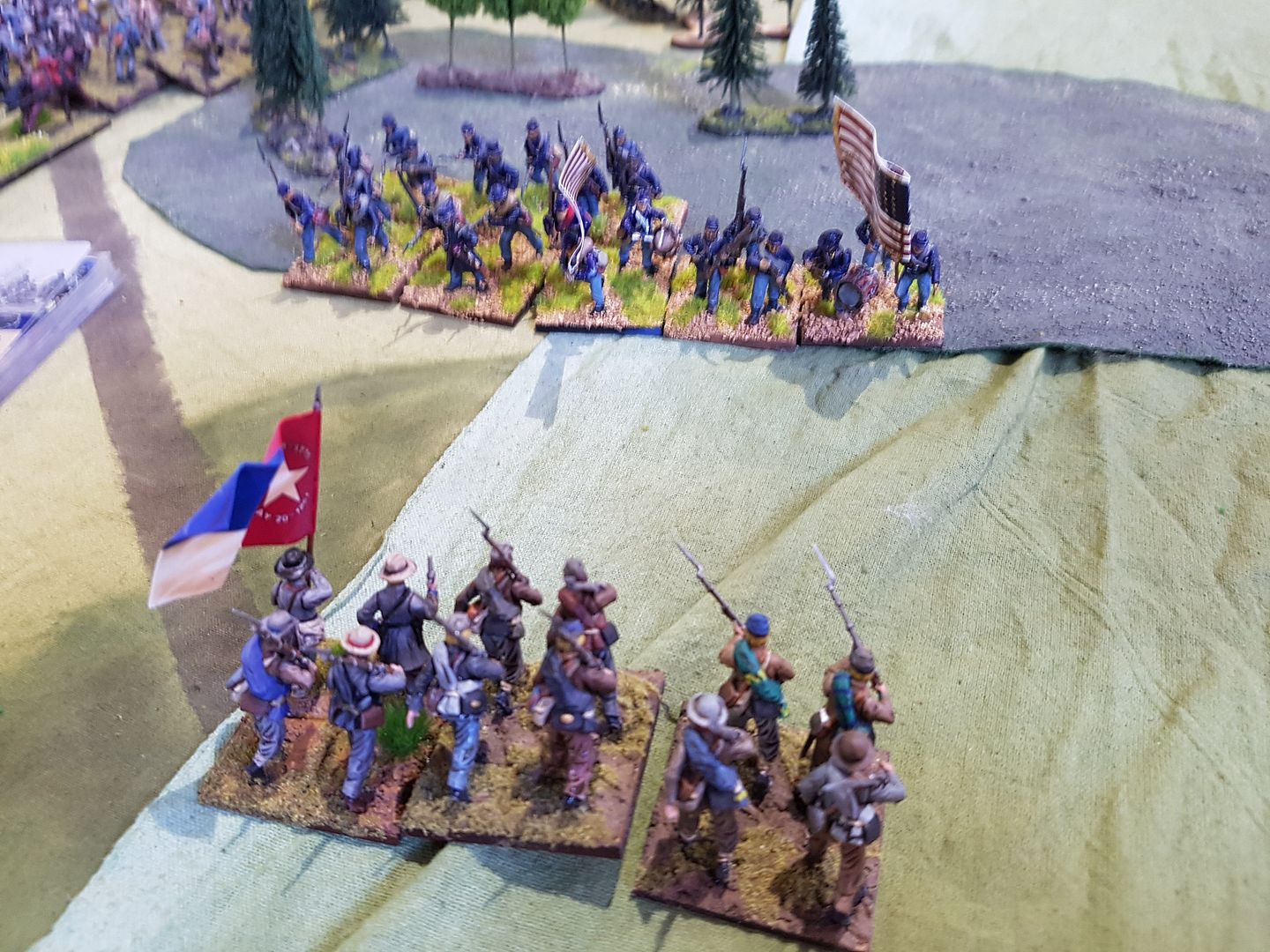 The cavalry fought well but under infantry and artillery fire they were eventually dispersed.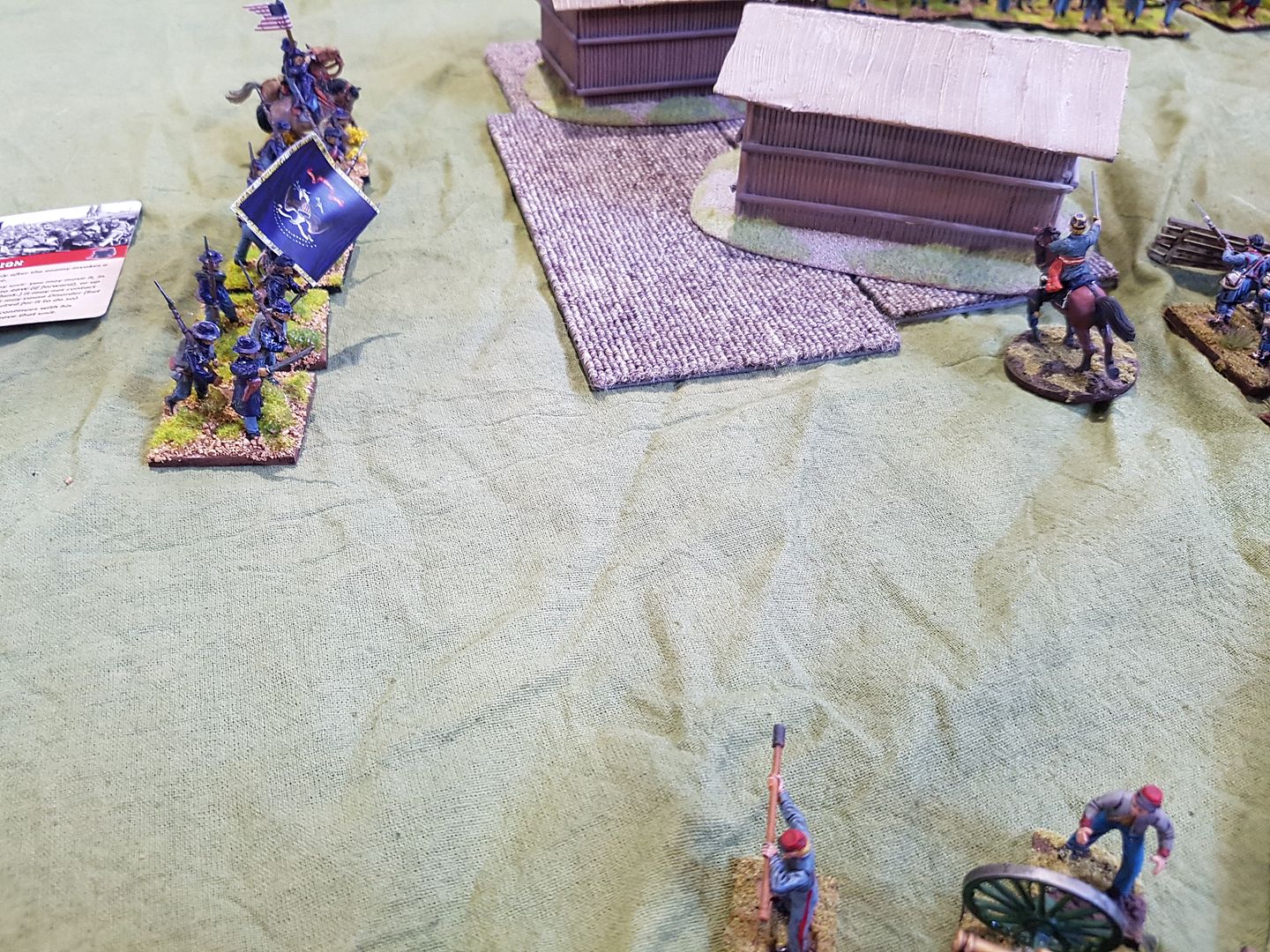 My artillery did sterling work.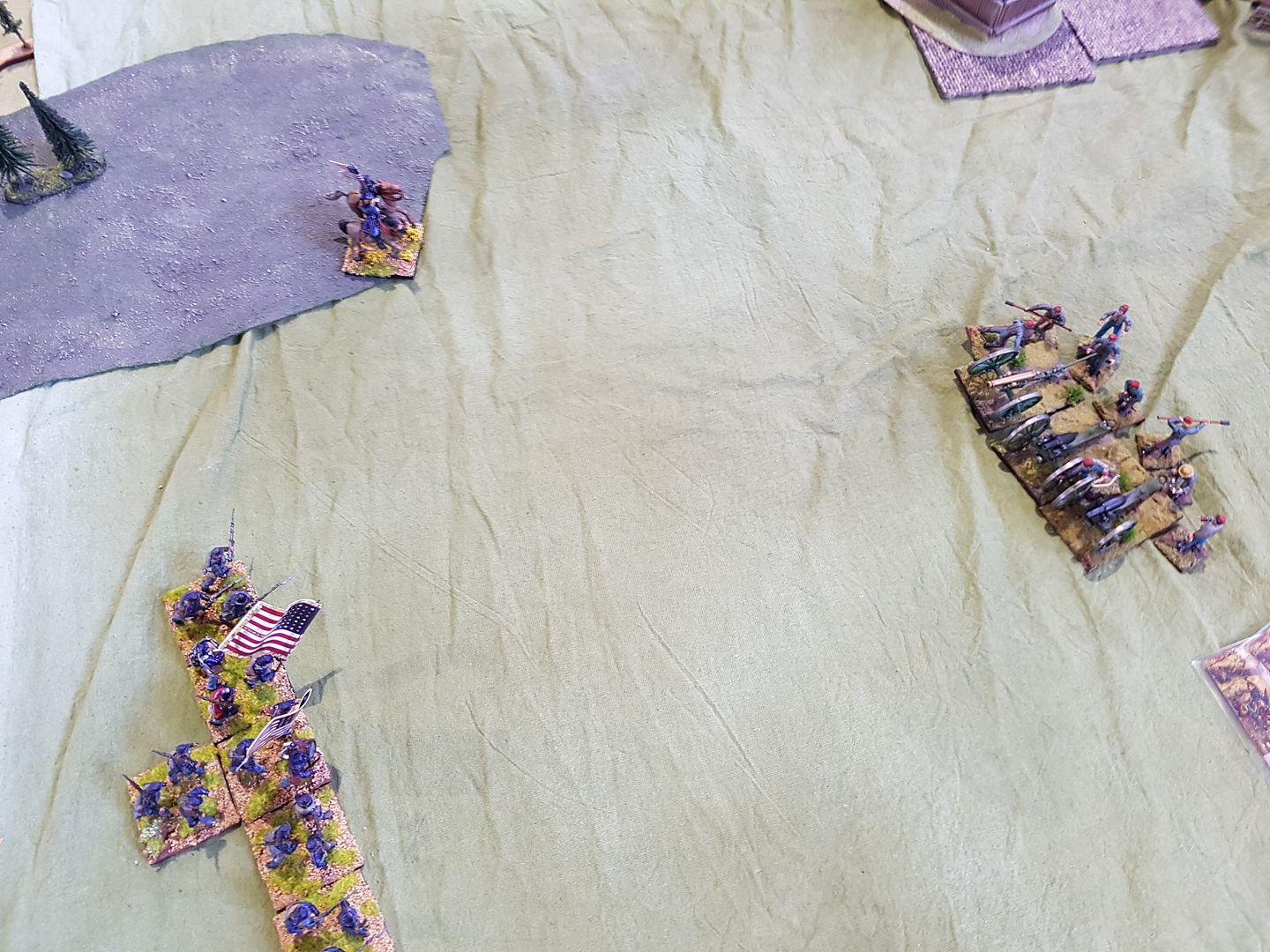 With momentum slipping away I decided to cross the fence.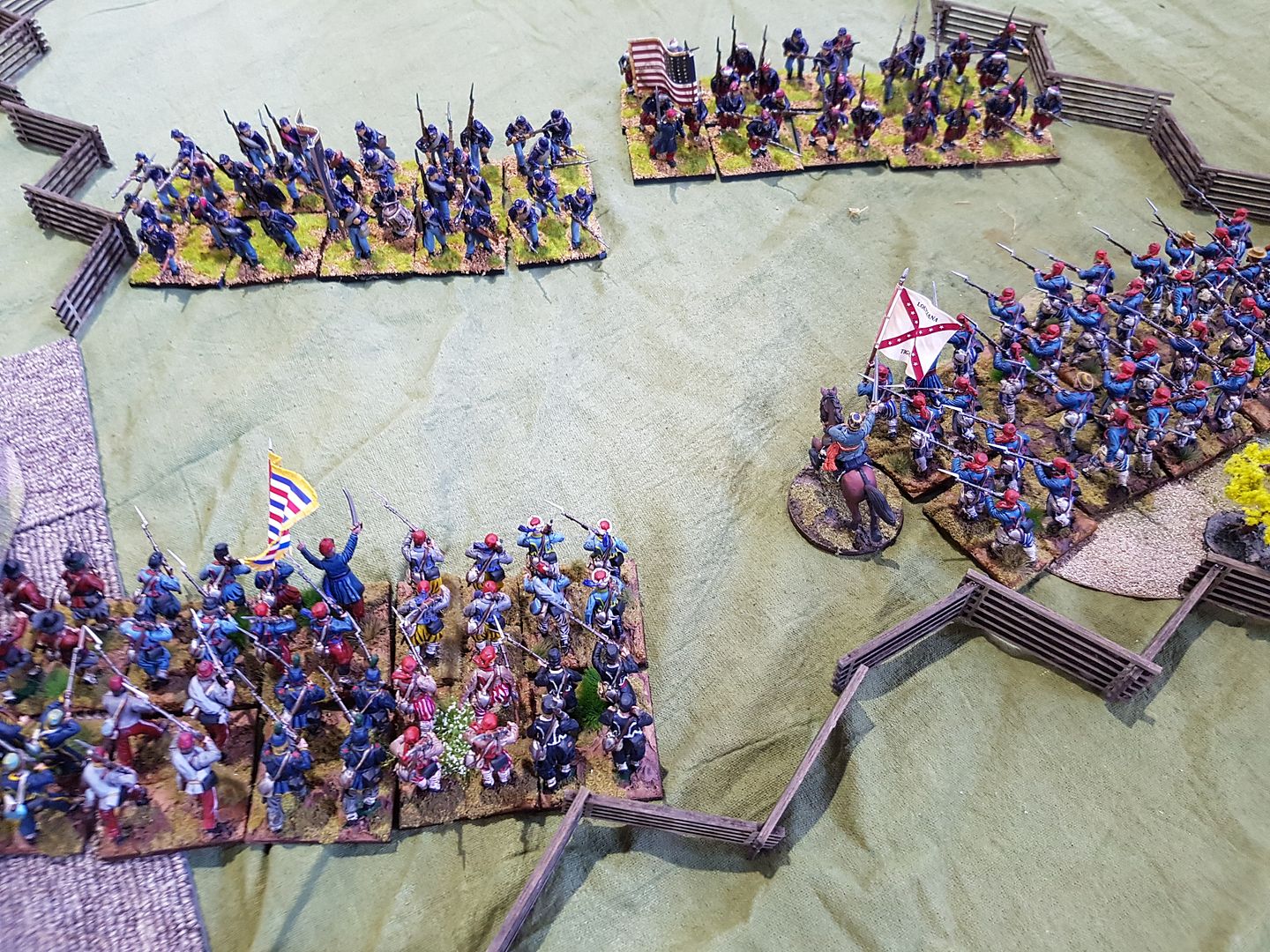 However the first attack was beaten back with heavy lost bringing my army to break point.
The cavalry was rebuilt to half strength as Cautious Veterans as was the North Carolinians. The Louisana infantry were brought back to full strength and remain Eager Recruits. The Attrition phase was then bane of all of us at some point but my troops came through this first campaign strongly with few losses to illness or disertion.