This is a game we put on over the Chritmas break.
This game is set around a very fictional aftermath to Operation Crusader in an area of the desert containing three small villages held by British infantry and two tank troops.
With the larger battle swirling around the perifery, a specialised infantry force must go in to secure a staging post for tanks. The attacker must seize one of the three villages with infantry and hold on to it until the 15th game turn. He'll get two tank troops as re-enforcements which will enter randomly during the game.
This is me as defender, with my tanks poised in the centre of the terrain. It looks quite flat here but it's actually quite bumpy with plentry of blind spots. Much of it is wet, representing bog which dries out during the game.
The Valentines you can see there are in hull down position behind a rise.
You can also see the boggy patches all around after recent rain.
My opponent, Janos, decides to sieze the village on the right with Fallshirmiger (disguised as allied paratroopers). My Honeys and infantry hasten to the scene.
Valentine
If the figures look strange - well, it was a scratch game!
Stuarts
Bogged down Valentines: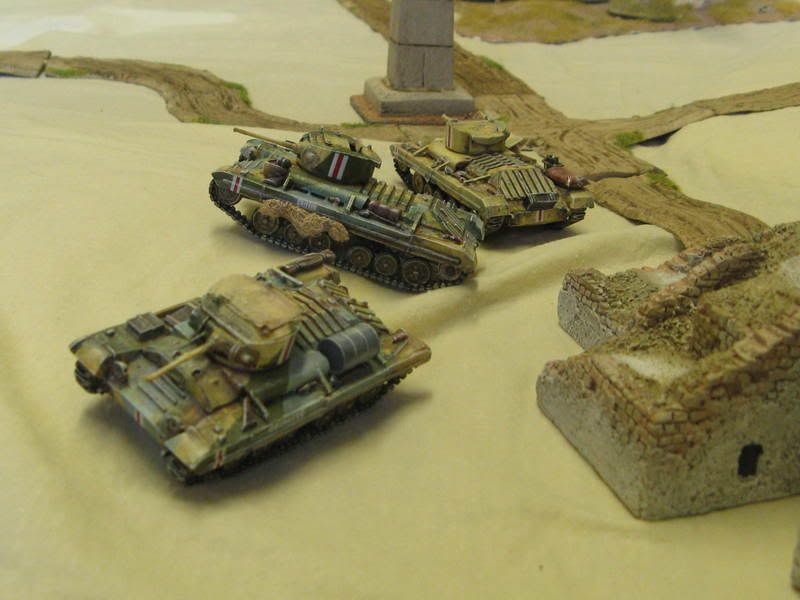 British cose up for an assault on the building taken by the Germans but Panzer IIIs arrive on the flank (top of picture)
Fight over the near building rages - the Panzers on the right go ahead with their attempt to attack my infantry but if the Valentines (in hull down position, top) could get themselves un-bogged down they'd have the Germans open to a flank atttack.
Game-turning dilemma for the Germans (to the right):
Does he annialate the British by the river lining up to assault the
building (on the right hand side - possession of which is the aim of the battle)? The infantry
is still mainly suppressed so maybe it's his chance to finish them off
....or does he deal with the 2-pounder Valentines on his flank?
Tricky. A sequential game report is here, if you're interested:
Page one
http://ilovewargameing.21.forumer.com/v ... sc&start=0
Page two
http://ilovewargameing.21.forumer.com/v ... c&start=15
Page three
http://ilovewargameing.21.forumer.com/v ... c&start=30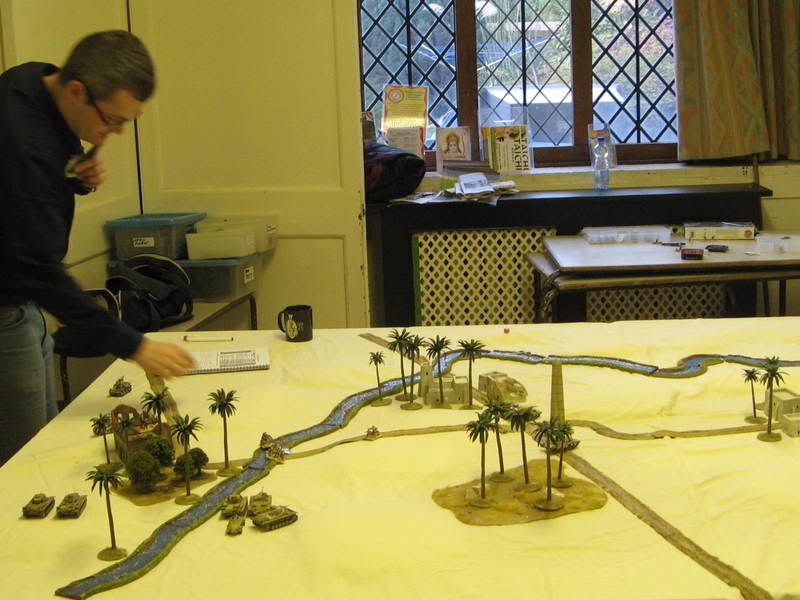 Janos looks for a rule to get rid of those Brits!