All good fun over on the GduC
http://www.drunkendragoonproductions.co ... m.php?f=65
In the olden days, when I wwas young and I worked at the Tin Soldier Michael Green had a T Shirt designed, a very successful one at that, that featured the Messonier Napoleon, and the legend
Wargames -The time Machine.
.amongst many others my father was quite took by it and had several, the pale blue with dark blue imageand neck and sleeve and printing and the beige version, there was possibly a white one as well and he wore them often..progressing from wearing them out to do shopping to their eventual destruction as gardening wear, and he never tired of explaining them to people who would ask him their meaning..good on you Billy..you did your bit..
anyway , the Time Machine bit..
I don't know whether it is the fact I have a very bad cold thingy..and I seem to be more than bit disassociated from the time and space continuum by its effects , or whatever, but I seem to find that I am reliving an important phase of my life .It seems to be the end of 1975 and the beginning of 1976. I find myself to be poring over my
Armies and Enemies of Imperial Rome
..I further find myself to be reacquiring my Roman numeracy skills, I find myself turning pages and matching the names of units to their ( supposed) shield patterns.. I seem to have been awoken into a dream..
My fist complete wargames army ever was a Minifig Late Roman army in 25mm , that old and now most venerable PB range(ok I had some nice Hinchliffe boltshooters with some bloody ugly crew) . I am not sure now what it was that drew me to this army, probaly Sutcliffe and the like.This army was lovingly built as accurately as I could make it in those dim days of yore and it was much loved as only those things that are part of the last days of adolescence can be. With it I progressed from a pretty poor novice novice to a easonably good player in the WRG world On .The jouney led me to the meeting many no longer playing, or now past on. Everything was right in the World. Gough Whitlam was in power, I had an absoluterly terrific girlfriend , I made enough money working part time, I was sort of enjoying uni..life was simple elgant and I understood nothing.
Things changed..as they do..15mm..Napoleonics,( I blame Ralph H. who introduced me to both the size and the period with a game in the upstairs room at the Lindfield club), the wonderful girlfriend ran off with a Kiwi who had a motor bike, I moved out of home and discovered the horror of fending for myself , I discovered that drinking massive amounts of beer fixed most things up, except one's painting and .my beloved Romans were sold off to cover something a smundane like the rent .I seem to remember Tony White bought them for a song after beating me down with the logic he was so well know for.That all happened much later (1980?)in the second Willoughby road site of the TS. .
Well here I am poring over Old Glory Late Roman 25s that look mighty like Minifigs..poring over my old old books, poring over the Internet (that bits new) wondering if I will suddenly turn in myself 37 years ago, driving my mother's rather crabby Holden HG automatic station wagon on the dangerous journry from Turramurra to Campsie to take part in my first campaign move,looking forward to meeting my newly acquired friend Harry Bertsos, ( and only moments away from meeting that character who was an enduring ,if not always an l easy constant , until recently, in my wargaming life, Gary Wells) My army was rolling around in a pair of shoe boxes on the back seat.
As I learnt very quickly, there at Paul Fordyce's house in Campsie for the fist time, all campaigns rarely survive the first move..
an all your first wonderful girlfriends run away..you have a proper airbrush with a compressor not a cheap baderger and proellant cans.That army, all those years ago, was the fist army I ever used an airbrush on..
so it is witjh some wonder I test out the numbers that will fit on a base, try to remember, with some success, the units that I had originally portrayed though things have changed..I now have to drill out the hands for very sharp brass spears and glue on the shields..where has the simplicity of my youth gone?
good old IR 9 , this is the second edition miniature..mine came with long spear and attached shield and Attic helmet..those were the days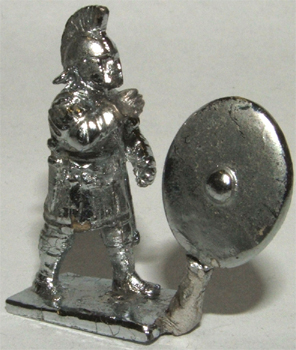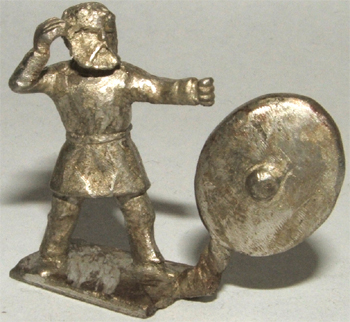 So thanks Greywolf, for the ride in the Tardis