This is my take on on VSF Zeppelin/Airship Bomber, I have used Renaissance Miniatures Santos Dumont Airship #9 kit as a basis for it. I picked the kit up through a Kickstarter. The kit has saved me a lot of work as I was considering building something similar from scratch!
Here's the gondola I have to work on the balloon/envelope next
...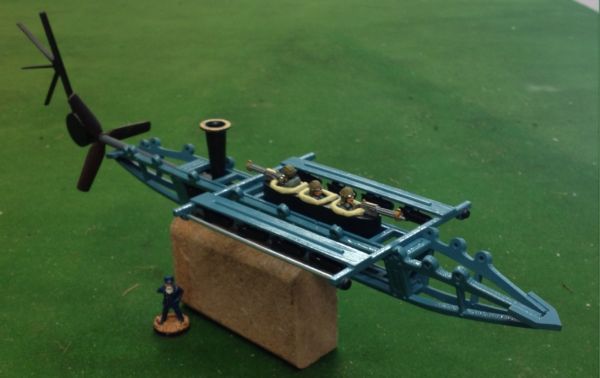 The kit itself is good but if I was actually building the Santos Dumont Airship #9 I would have to make some improvements as I can't help but dabble; i.e. Adding a base to the basket, using a bit of dowel for the fuel tank, make a one piece engine block with better details using the kit radiator etc. Anyway a good kit not cheap and in my opinion not for the feint hearted.
Renaissance Miniatures:
https://renaissanceminiatures.com/webstore/
Santos Dumont Airship Instructions:
https://renaissanceminiatures.com/wiki/ ... ntable=yes
All the details of my changes to the Renaissance Miniatures Gondola and more pictures are on my blog...
http://captaindarlingsminiaturesemporiu ... t-one.html
Cheers!