Hi All,
Played a FUBAR VSF game with a Landship and some support vehicles on each side to see how my special 'Landship rules' worked. Rule wise the Landships like Battleships need to be much more 'survivable' than your regular 'steam tank' so the rules were written with that in mind and they passed the test with flying colours!
The scenario was British vs Americans one set in Ontario, Canada July 4 1882 During the Second Great Steam War. There was fistfuls of dice rolled and lots of action as Landships, Steam Blimps and Armoured Steam Wagons clashed in a swirling action. In the end the Yankee's (Dave) gave the Old World (commanded by myself) a damn good thrashing! Suffice to say Alberta, Ontario etc are all on the path to becoming States of the glorious U.S.A.
The highlight (not for me) of the night was fate of the British Landship HMLS Hood, it exploded in spectacular fashion just like her WW II namesake after a hit from just a 'regular' American Armoured Steam Wagon...suffice to say from now on in scenarios I will not name my Landships after real vessels!!!!!
HMLS Hood looses a salvo!
USLS Lexington fires at British Steam Wagons, The wreck of the HMLS Hood is visible in the distance.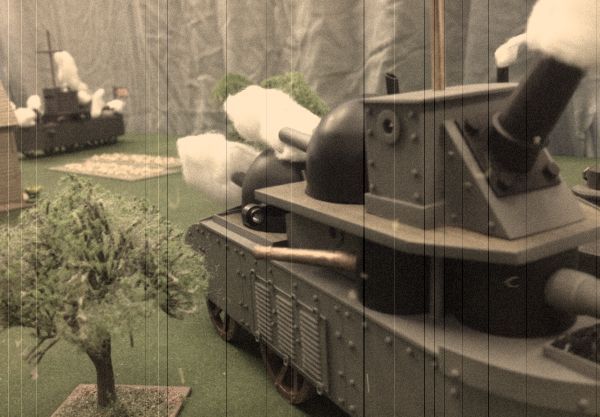 A British Steam Blimp carries out a bombing run on th USLS Lexington!
The full AAR and more pictures are o my Blog...
http://captaindarlingsminiaturesemporiu ... 6JJ54jTkFN
Cheers!