Hi All!
Dave was over last night so we decided to have a run through of Song of Drums & Shakos.
For our test we each had two squads of eight 'regular Joes' enter a board from random edges with the objective of breaking the enemy forces!
The rules have a cool figure/group activation system where you can risk getting from 1 up to 3 actions a turn for a figure but the more you try for the more likely you are to prematurely end your part of the turn and pass the action over to the other side...there was a lot of referencing of the rule book but we only had a quick glance over the rules before beginning. We both agreed there is a good game in these rules we'll do a proper read through before our next game. If Napoleonic skirmishing is your thing I'd say definitely give these rules a try!
By random pick I had control of the French with a squad of infantry and a squad of dragoons all well supplied with Gauloises and red wine while Dave commanded 2 squads of redcoats fortified with rum (well a beer at least)...
Initially one of Dave's squads took a while to deploy due to poor rolling but the other quickly formed a couple of volley groups and took on the dragoons who emplaced themselves behind a stone wall. We ended up with two mini actions with both sides banging away at each other while trying to get close enough to get into melee (which proved to be deadly especially when a figure is knocked to the ground) until the French infantry squad hit the 50% casualties barrier and decided fleeing off the board was a good idea leaving a trail of Gauloises butts behind them. Meanwhile the French dragoons led by Sergeant LeBoof who himself picked off a couple of redcoats defeated the other British squad (which included private Jones who went prone when fired at early in the game a spent virtually the rest of it counting ants as he hugged the dirt refusing repeated attempts to get back into the action). The two remaining squads redeployed to face each other but time beat us and we called stumps.
We had fun and with a proper read through of the rules we'll try them again!
We didn't take too many pictures but here's what came out!
An overall view of the game about turn five or six...
The 'plucky' redcoats form a volley line to take on Sgt LeBoofs dragoons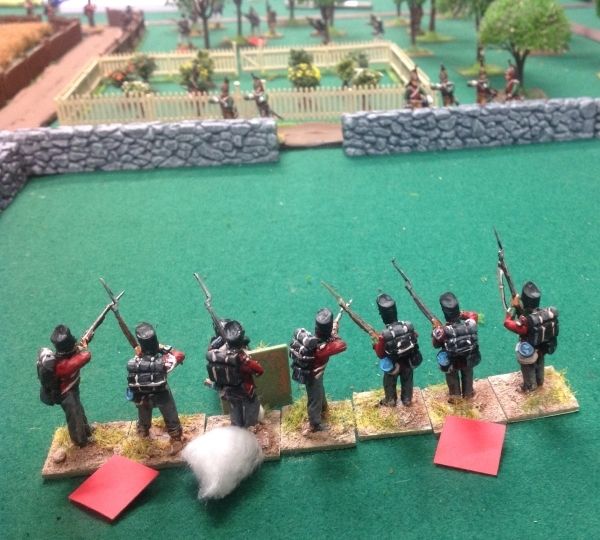 The French infantry emerge from the woods to take on the British squad deployed slowly onto the table
French infantry discard their Gauloises and rush from the woods at their British foes to give them some cold steel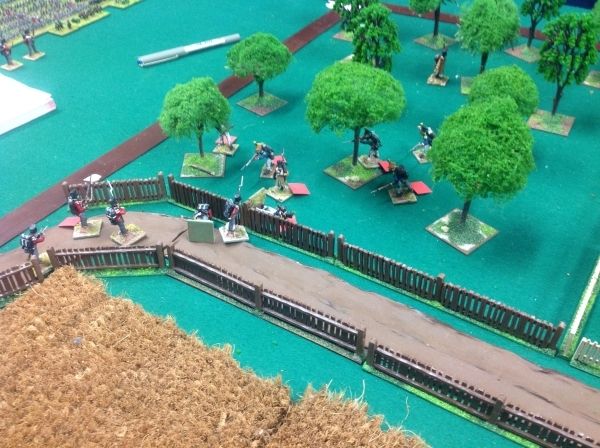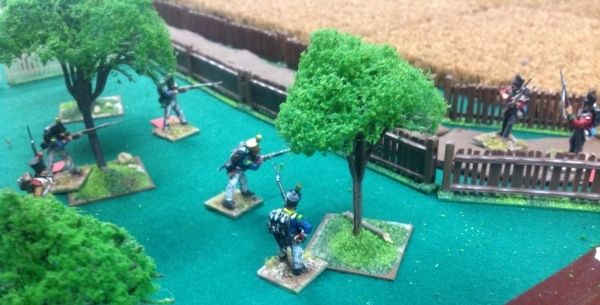 The French form a firing line to duel with the Brits after their attempt to rush at them failed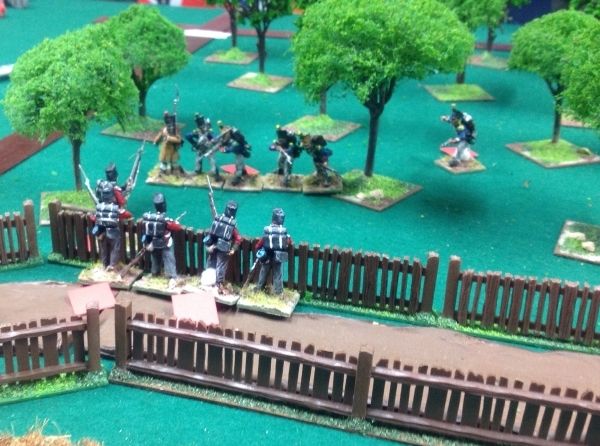 The British beat a retreat from the French dragoons who taunted them all the way!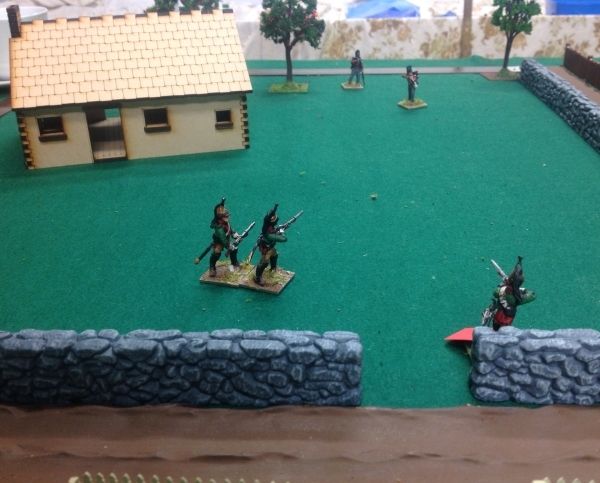 Cheers!