Usually 4,000+ figs on the table, mostly Old Glory.
Actually, this pic is 10mm..
This is a pic of our Clubs first weekend game, 30ft table, 12ft deep. I forget how many 25mm figs, but there was 'farsands of 'em'.
Any rule disputes were 'sorted' in the time honoured way..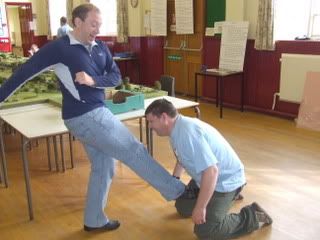 Time to debrief, replenish,and take on fluids..
A pleasant weekend was had, we will post up when we know the date of our next one, probably end of February 2008.