Hi All,
I searched the net for 28mm pre-made trenches but couldn't believe the prices (even though I know resin isn't cheap as I do some of my own casting) so I decided to make my own.
I decided to initially make three parts so my trench could vary in length two ends and a centre, one thing I noticed with the pre-made trenches most lack of ends so your trenches just stop open ended unless they but up against the board edge!
"ingredients"
ABS plastics scraps left overs from my 1/6 Tiger
Left over polystyrene packaging
General purpose glue
Plaster
sheet styrene
Long skewers
Some basing 'gravel' and green scatter
I had all this on hand so dove in!
1. cut and glued the polystyrene to my shaped ABS bases trench depth 2cm, I rarely work with polystyrene but everytime I do swear I'll buy a wire cutter, one day I may!
2. plaster over the polystyrene some sanding will be required to make the ends but up with a semblence of smooth continuity
3. build the trench lining with sheet styrene, score it at 5mm intervals to resemble planks
4. create wood uprights for 'supporting' the planks from the skewers and glue in corners and regular intervals
5. paint and finish
Too easy! The sections are very light thank to the polystyrene fill and the ABS is very rigid so these wont bend and crack the plaster finish...Just dont drop them!
Cheers
Pete
Three part design:

Glue polystyrene to the ABS base: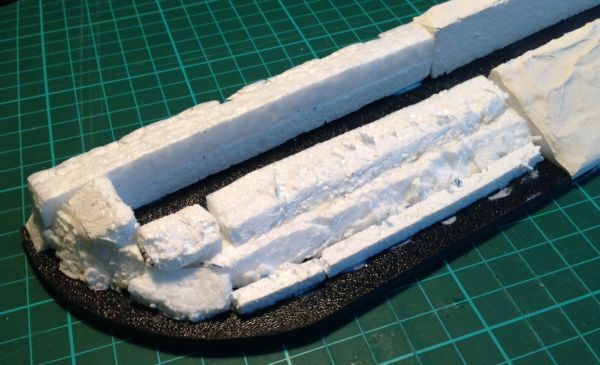 Plaster and sand:

I didnt take a picture of the 'raw' trench lining but I fixed it in place painted everything and added some basing materials. I still may umber wash the mound to blend colours together and black wash the trench lining and bring out plank highlights.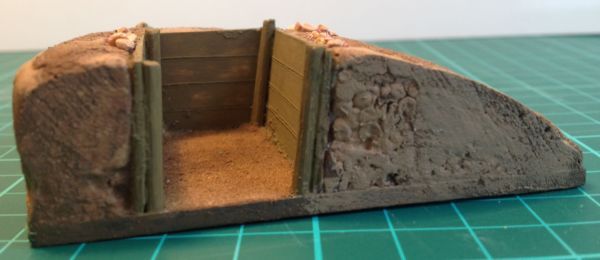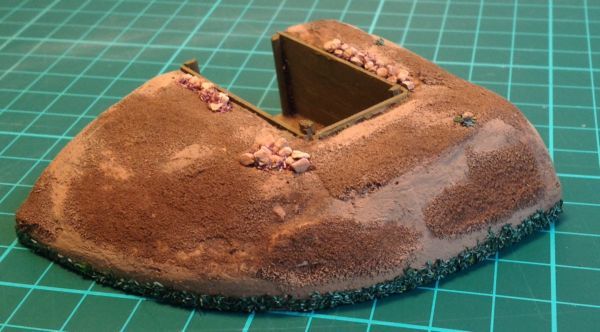 A few of my Perry Yankees trying the 'complete' portion, you'll see where the centre buts up to the end I'll need to do a little more shaping so they match a bit better...